» General Information:


Christmas Island (Kiribati) is located 1,200 miles south of Hawaii, is a unique and natural masterpiece that magically combines all the elements critical to fly fishing success. Endless hard sand flats fishing, remarkable numbers of cruising bonefish and trevally, and consistent year-round weather await all who visit this unique atoll.

Fly fishing guides at Christmas Island have been handpicked for their overall level of experience and skill, calmness under pressure, and instructional abilities. Each day anglers will depart via truck or catamaran for the day's flats fishing. Virtually all fly fishing entails sight casting to visible fish while wading in shallow water.
Christmas Island's plentiful bonefish average 2 to 4 pounds, though each week presents numerous opportunities for larger bonefish in the 5 to 10 pound class.

Excellent blue water fishing for tuna, wahoo, and others...



» Package:


The operation runs from Tuesday to Tuesday, with the following itinerary:
Day 1: Arrival and overnight in Honolulu.
Day 2 (Tuesday): Morning flight from Honolulu to Christmas Island. Airport pickup, arrival to lodge and after accommodation in rooms, meeting with guides.
Day 3 to 8: 6 full fishing days.
Fishing days begin at 8 am until 4.30 pm, stopping at midday for lunch.
Day 9 (Tuesday): Return flight from Christmas Island to Honolulu. Overnight.
Day 10: Departure from Honolulu.



» Accommodation:


The lodge is located halfway between the airport and London on a secluded section of beach, and can accommodate up to 12 anglers. Accommodations consist of three split level buildings, each with four separate units. Each room is configured to house two anglers and have a private bathroom. Rooms are very simple, relatively rustic but kept clean and features ample space for your gear. Top floor rooms look out at the vast Pacific ocean with fantastic ocean breezes that fill your room. Rooms cleaned and restocked with soda, water and beer every day during your stay. Each unit is equipped with screened windows, fans, a small refrigerator, and simple plastic table and chairs. Meals are a very basic and regularly comprise fresh seafood (snapper, tuna & wahoo, lobster, mantis shrimp), chicken, pork, rice, pasta and sometimes steak. Fresh vegetables and fruit are very hard to keep in supply.



» Tackle and Equipment:


Reels: for saltwater and a good brake system, 20 pound test backing for line #8 and 30 pound test for lines # 10-#12 and # 14.

Lines: for saltwater and tropical weather for rod #8 Wt, WF floating line; for rod # 10 Wt, WF floating line and 300-350 grain sinking line; for rod #12 Wt and #14 Wt, 400-600 grain sinking line.

Leaders: 9 feet and 20 pounds of fluorocarbon or monofilament tapered leaders. Fluorocarbon spools of 15, 20, 40, 60, 80 and 100 pounds.

Flies for GT, Bluefin and Dorado: EP Blue Back Herring; EP Peanut Butter Olive/Polar; EP Peanut Butter Gray; EP Anchovy; EP Mackerel; Rainy´s Bubblehead Green Yellow; Rainy´s Bubblehead Olive/Silver; Leftys Deceivers; Large Clousers; etc... Hooks # 2/0 and # 3/0.

Flies for Bonefish: Gotcha; Crazy Charlie; Bonefish Special; Spawning Shripms; Bo ogle Head; Borki´s Bonefish; etc... Hooks # 4 and # 6.

Flies for Permit: Del´s Merkin; EP Floating Crab; AVALON´s Fly; Bauer´s Crab-Tan; Rag Head Crab Tan; etc.. Hooks # 4 and # 2.

Flies for Billfish: FPF Ballyhoo blue/pearl/red; FPF Hot Fish; FPF Black Attack; Billfish Popper; FPF Squid; Leftys Deceivers; etc... Hooks # 5/0 and # 6/0.



» Additional Information:


There are some things to take into account when traveling to Christmas Island:
The fishing operation itself is more like a fishing camp.
Lodging is basic, clean but many things are still to be improved and lack of maintenance is a characteristic of the island.
Harsh pesticides are not allowed on the island, therefore there's an important amount of bugs that come and go. You will see that the staff cleans your room every day but totally keeping the bugs out of the rooms is next to impossible. Nevertheless, you can war the staff about this and they can spray RAID to help you put for a couple of days.
As the island is located in the middle of the pacific, there's few fresh water and soil. Even though the chef has experience with worldwide cuisine, meals are very basic. Something to take into consideration is the lunch, they continue to be the weak point of the meals so it is highly recommended to bring along to the trip some nuts, granola bars and snacks.
Water is scarce and you MUST NOT drink water from the tab. Everyday you'll have news sodas, water and beers in the fridge, also please keep count on what you consume.
It's always recommended to have your important belongings under lock, just in case.


» Rates /

2017

US$ 2,570.-

Per person on double basis.
Rates include
7-night accommodation, all meals, 6 fishing days with guide and skiff and all ground transportation on the island. 4 mineral water per day/angler.
Rates do not include:
Airfare to Honolulu, airfare to Christmas Island, accommodations/meals/transfers in Honolulu, travel insurance, alcohol & soda, fishing license (U$S 50.-), staff and guide gratuities (U$S 20.-/U$S 40.- per guide per day and U$S 100.- pe week/person), departure taxes (U$S 24.-).
Notes:
A Visa voucher is required for some countries.
» Testimonials
» Plenitud / Plentifulness
by: Gabriel Baier - August 2017

Dear Daniel,

After a great effort of planning and setting up the trip together and making it a reality, I must say that it was a total success! A year long coming back and forth planning the perfect air combination and suitable connecting destinations in order to make profit of absolutely everything.
The day finally came, the anxiety was overwhelming and little by little everything was falling in its place, all together at Ezeiza's Airport we departed to Houston, second scale was Honolulu and last destination Christmas Island.

As a group of schoolboys, we enjoyed every second of it, from renting a mini van and go out shopping to visiting every fly shop that came along. We successfully received the order we made to your friend Chris from Caddisflyshop, thanks to your recommendations we ad all the necessary gear for the adventure.

Once in Honolulu, already in short pants we went to the only fly shop on the island just for details and accessories. The next day we caught our flight, Fiji Airways, to Christmas Island only 3 hours far form our final destination.
A mix of feelings and sensations came as an invasion, we had landed in the so wanted and far away place that we all once dreamed of. The most important component was the group of friends that traveled sharing the same passion, fishing!

Already in the island, we were transferred to the lodge in an amazing natural environment, hosted by humble and very respectful people who made a great effort in making us feel comfortable. We unpacked and the meal schedule and fishing times were explained, after that we went to prepare our gear for the big day!

The next morning we woke up at 5 am, ready for breakfast with a tremendous anxiety wondering how the place was going to look like, and how was the day going to develop.
We divided the fishing groups and went to the marina where local boats awaited with the guides.
After a long day wading, we shared our experience once we were back in the boat, and my personal experience was successful since I fished 7 GTs, not very big, only one of around 7 kg. The rest of the group some fished GTs, other bonefish and other nothing at all.

Days went by and we fished all sorts of species, bonefish, GTs, ladyfish, barracudas, bluetrevally, among others... but I developed a personal thing with the triggerfish, since it's a very difficult species to fish and its way of taking the fly is similar to the permit. Such was my fixation that all I looked for when I was wading was their movement, their way of feeding and tailing.

After fishing various GTs my aim was to confuse the triggerfish, a jealous and slippery fish, with my crab. The guides weren't much enthusiastic about it since they know how hard they are, nevertheless with my scarce english I tried to communicate my interest to the guides, who watched me cast and set the fly over and over again with no success.
After walking many kilometers with water above the knees we saw some tailing, the adrenaline immediately rushed into me. In my mind I knew that I had to do my best cast and set the fly with no sound at all in order not to scare them. There were 2 of them, but as we got near only one was left with beautiful colors and a prominent tail. I positioned myself strategically with the wind on the tail and after a quick glance to the guide I performed my cast and landed the fly 1 meter in front of its mouth. The guide quietly indicated to start stripping, and stop... when I realized that the fish was attracted by the my fly my heart stopped, I saw perfectly how the triggerfish followed every movement I made with my fly. After following my fly a couple of meters the fish opened its mouth and finally ate, while standing still. In that precious moment of tailing and immediate rush, the triggerfish ran taking out half of my backing line, I was happy and felt plentiful. My screams and the guide's could be heard from far far away and after 10 minutes of fight I had it in my hands, and that was the moment I felt realized in this trip. The day continued with landing another one but smaller without the guide, and I was able to catch a third one of 13/14 lbs on the second day also without the guide. My joyfulness was inexplicable; I went back to the lodge completely satisfied but with the image of the tailing repeating in my mind over and over.

It was an extraordinary trip, full of joy and emotions, we met amazing people and to you Daniel what can I say that I haven't said before... thank you again, always willing to improve, solve and more important be one of us in the trip!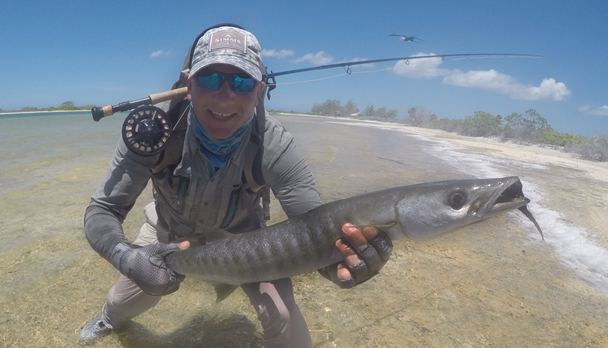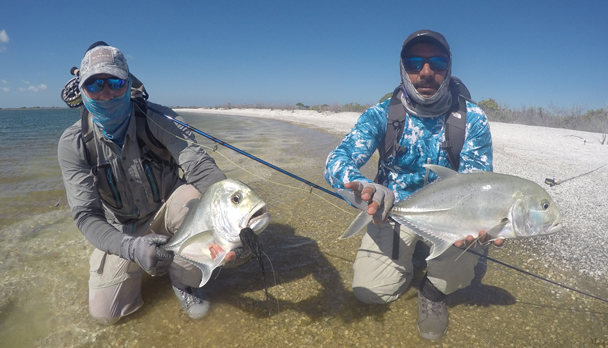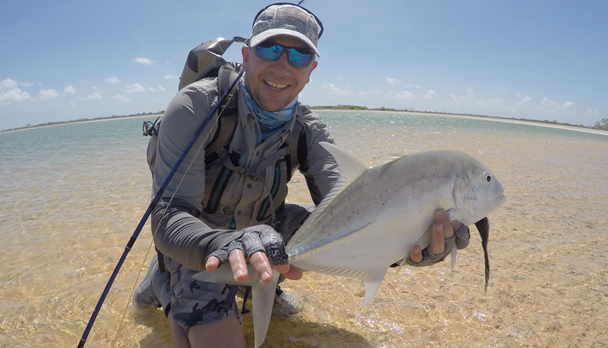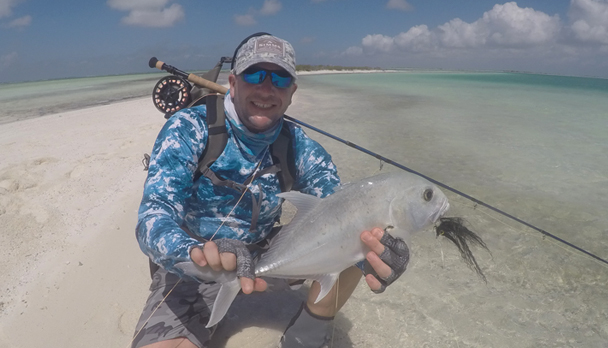 » Un viaje distinto
by: Daniel Ontiveros - Junio 2017

Christmas Island, June 2017

Hi Daniel,
I came back from the trip very satisfied. Hereby please find some comments about the trip, hope I have covered every aspect.

The lodging is very simple, I highlight the comfort of the beds and the personnel service, they change the sheets every day and the cleaning is well done. The bathroom is basic as well, and the water is only for bath use, you must not drink it nor wash your teeth with it, bottled water is available in every room for this purpose.
All rooms have AC but if you open the window at night there's a great breeze coming in, which I found very pleasant. Electricity is turned on once you get back from fishing, so if for any reason someone stays at the lodge or arrives earlier they'll have to tell the staff.
The same with the water.

As for the gastronomy, the amenities are very primitive nevertheless I have congratulate them for the amazing job they did and effort they put with the scarce elements they have.
We've eaten fresh octopus, taken from the beach in front of the lodge, lobster, tuna, red snapper, sashimi every day, chicken and pork with rice, smashed potato and salads as side dishes. Fruits, mango and desserts every day.
To be honest, it's a privilege to be able to enjoy such dishes despite the poverty of the island!
The beverages are sodas and beers, but if you want alcoholic drinks then you?ll have to get them yourself. There are some local markets.
The breakfast is fine and abundant, and the lunchbox for midday has 2 sandwiches which were enough for me. All the snacks I carried with me I never ate them and gave them to the guides and lodge staff.

The fishing operation was something new to me, since it was different from the other saltwater experiences I had.
They wake you up at 5 am, breakfast is served at 6 and at 7 the guides arrive in their truck vehicle to take you to the small marine were the boats are waiting. I enjoyed the truck trip because you can appreciate the rest of the island and see how locals live.
Each boat carries 4 anglers, 2 guides and 1 captain. Each guide chooses a different flat to fish, the wading is not particularly easy since the bottom has seashell and after 2 to 3 hours of wading you can get physically tired.
Some guides and boats have radio and others don't which I find not very handful for any inconvenient or emergency that might occur. Those guides who don't have radio, communicate with the boat by lifting their arms... and it's a while until the boat arrives to the anglers. If there's someone who had an accident or doesn't feel well, this might not be a pleasant wait, which can be solved easily with a radio. We were lucky and didn't have any inconvenient.

The head guide Bita, is quite calm and laid back, in my opinion his presence could have been more frequent. Besides the initial talk, which in particular didn't add more to what we already knew, he dropped by every night to write in a board the next day's fishing couple, guide assigned and captain.
In my opinion he should be in the lodge at 7am checking everything is on time and check after any angler's need or concern. He's a very good man and easy going, which might seem easy for other guides to jump him over.
We had an experience one day, that we wanted to fish in a specific place, the Backcountry, that's far away so we were recommended to depart early in the morning. We agreed with the guides about that and the next morning they were all late and said we couldn't go there because it was too late to depart... and Bita wasn't there to assist us.
I wasn't very affected by this situation, but indeed wanted to fish there because we were told that many GT gathered there due to the big amount of food in the zone.

The guides in general are quiet and respectful, and if you shoe them interest in talking about their island, people and traditions they come more friendly and can offer a gentle conversation. I had 2 very good guides, Iliu and John, both very educated and very good guides. The other guides weren't much different but these 2 I must highlight.

I dedicated some time in learning some word of their language, I practiced with Kikibon the girl from the bar. I enjoy doing this in order to establish a better relation with the guide and make him understand they way I like fishing.
HELLO WELCOME = MAURI
THANKS = KORRABPA
YOU'RE WELCOME = TERRAY
DELICIOUS = KANKAN

For me it was a nice experience, both in the fishing aspect, even though it wasn't much, and getting to know how the island people live? the seem very happy.

Hugs!
Daniel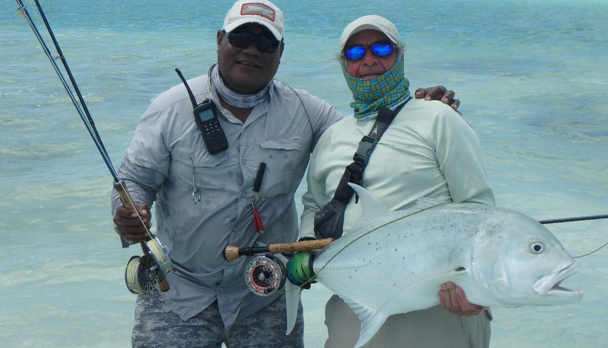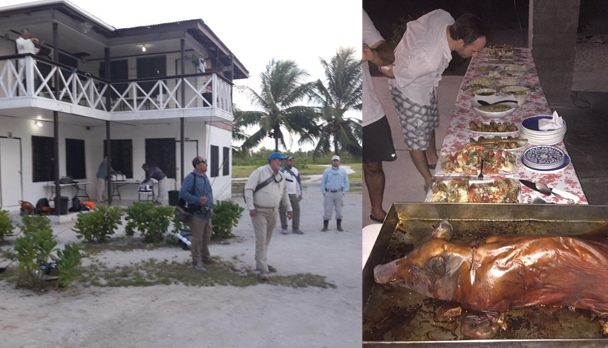 Share this program:
Recomended Flies:
Click to view more info