Testimonials
Wonderful fishing!
Dear Daniel, the fishing in Cozumel was a wonderful experience, I went out with Nacho's son who is also a very good guide. I hooked some bones and lost some as well since they kept on cutting the line, I also got to see permit and when I tried to cast at them I put really nervous and the line felt on top!!! That night I wasn't able to sleep... Thanks again for the fishing trip!

Regards,
Cesar.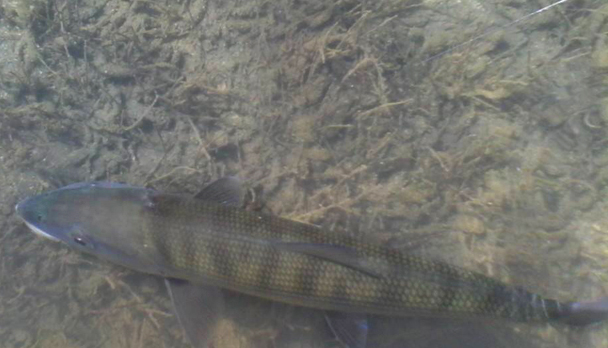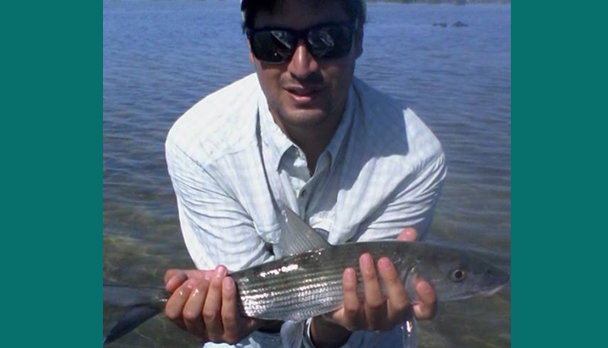 My first time in saltwater, SPECTACULAR!
Daniel,

I had a great time, 10 points! Being my first experience I was more than satisfied; 12 bonefish, 2 small "picudas" and 2 jacks. Nacho, the guide did the impossible to make me fish tarpon but they weren't eating... they were just in front of me!

Thank you and kind regards.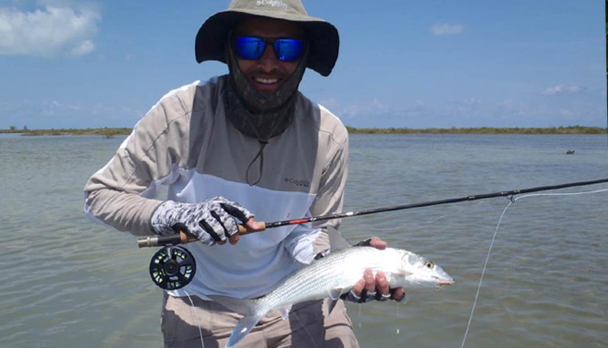 Fun with Bonefish
Daniel, I had a great time fishing with Albert & young Nacho, they put me onto more bonefish than I have ever seen at one time. One of the first places we went to had around 7or 8 schools of 20 to 30 bonefish, running up & down the bank stopping in front of us and tailing. If my casting had been better I'm sure I would have landed a lot more fish. All told, I did land at least 6 nice Bonefish, on flies, most of them in the 5 and 6 pound range. Of course I lost a couple, I like to think of as long line release. The guides were very professional and knowledgeable, always spotting fish way in front of me. I think Cozumel could be considered as a great place to Bonefish, the shallow lagoons were great to wade in or even pole around in. I would definitely suggest to anyone planning a trip to Cozumel to line up at least one day with Nacho and his sons to go for a fun day fishing. We were into Bonefish all day.
On the way back from the lagoons, I had chances for some cast to Permit, Barracuda and even a Sand shark.
Thank you!

Cozumel, what a fabulous day !
We booked our trip for Dec.29 2010, our guide was to be Nacho Eaun, as our friends have a house on Cozumel Daniel arranged us to be picked up at the house. The meet was set for 6:30 am to give us a full day, my
wife and I were waiting at 6:15 when we noticed a gentleman walking around the corner appearing to be looking for someone, turns out it was Nacho. We knew then it would be a good day, we loaded into his car
as we meet his wife and he explained we were headed to the marina.
Upon arriving Nacho informed us we would be guided by his son Nacho JR and his other son Alberto, I was a little hesitant after hearing how good a guide Nacho was, but figured his sons would be just as good. It should be mentioned all in the Eaun family are very nice, friendly people. We loaded the boat and headed to the lagoon, Alberto had explained he had several great locations he was going to take us to. We beached the power boat walked across a small lagoon to be met on the other side by Alberto in a flats boat, then the day began, it wasn't 30 minutes later that he had me throw to a spot where he said he saw bonefish, I saw nothing, next thing I know my reel is singing and it's game on! We continued in the first lagoon, at one point seeing baby Tarpon chasing shrimp up against the mangroves but they weren't interested in flies, they had shrimp on their minds.
We drifted around the corner out of the mangroves into a small lagoon, at this point Alberto and I began wading as the water was only
about a foot deep. Again within 30-40 minutes he had me on another bonefish. We did that again then jumped back into the boat to try another spot. Alberto spotted a big school feeding,explaining you could see the difference in the water color due to the sand they were moving around looking for food. He advised Nacho and I to get out and
wade closer to have a better opportunity, i threw my best cast(still need to practice that) and 2 more casts later another bonefish! We worked that spot for two hours, pulling bonefish after bonefish outta there. My wife had started fishing from the boat with Nacho and was having similar good fortune,then she landed a baby Permit, boy was she excited. Then she landed a small barracuda, she followed that with more bone fish.
What a fabulous day, we ended it with a double, my wife caught another bone as I hooked a jack !

Fish for the day:
My wife, caught and landed; 8 bonefish, 1 permit, I barracuda. 6 more bonefish caught but not landed.
Myself, caught and landed; 16 bonefish, 3 jacks and 1 lazy fish(?) caught but not landed; 8 more bonefish and 2 not sure what kind.
If you are considering a guide in Cozumel please seriously consider Nacho,Alberto and Nacho JR. They will put you on fish until your arm falls off in the lagoon. We are already planning our next trip.
Thank you Daniel, Nacho, Alberto and Nacho JR for a day we will not forget.
Chuck and Debbie Roberts. Las Vegas, Nevada
My day with Nacho produced plenty of action !
The bottom line is that Cozumel is a very underrated bonefish/snook/tarpon spot and if you are in the area and enjoy flats fishing, Cozumel is a must do. My assessment of a good day of bonefishing is based on how many fish you see, and how many shots you get. If I am in fish most of the day, it is a great day. Landing big numbers of fish doesnt happen all that often but if 6-12 fish come to hand I am more than satisfied. My day with Nacho produced plenty of action on bones, and later in the day we chased a few tarpon and snook. I was surprised at the size of the fish, my guide suggested one was 7lbs, I am thinking more like six. Either way a very respectable bonefish anywhere.
The bonefish fishing in Cozumel was outstanding !
Dear Daniel,

The holidays in Playa del Carmen were fantastic, and the bonefish fishing in Cozumel was outstanding. I landed 7, with strong struggle, full of adrenalin!
Albert was my guide. He is an excellent guide, with a surprising good eye for spotting bones. We had a de-luxe service, punctuality, a good boat and good food and beverages. Besides, Albert is the kind of guides who cares about his clients; apart from fishing, he tries to teach you new techniques and gives you tips to improve.
I am very happy and satisfied with the service and the quality and quantity of the fishing.
We saw several bonefish schools, but we didnt see any permit or baby tarpon.

Best wishes,

Aldo Campusano
acampusanom@vtr.net
Cozumel. How much I enjoyed the bonefishing !!!!!
Daniel,

Here is a somewhat late reply to say how much I enjoyed the bonefishing in Cozumel. Alberto was our guide. He was great. He saw fish I could have never seen and was helpful and patient given two clients who had never fished for bonefish before. Despite very strong (30-40 km/h) winds which made casting and sighting fish very difficult, we each caught three. Alberto should get the credit. I will gladly return.

Thank you,

Bob


Cozumel. We had a super time !!!!!
Hello Daniel,

Nacho and his son Nacho jr. were both great. We had a super time. If we come to Cozumel agian I will definately want several days with Nacho.

Best, Justin

www.fishingbearlodge.com


Cozumel. We had a super trip!
Daniel
We had a super trip! The weather was great and yes, the fish were cooperative. With much guidance (and patience I might add) from Albert I finally got the hang of it and ended up with 12 bones! I was extremely pleased with the attention and persistence that Albert put into getting us on the fish. He stayed at it very hard all day long. I was hoping for 3 or 4 fish so you can imagine how excited I was to get 12! I will definitely use these guys again if I am in Cozumel! Some of my business associates that were traveling with us used other services and ended up catching NO bonefish. They also indicated that their guide did not seem to care. Not the case with me - I think Albert and Nacho (jr) were as excited as me when I hooked the first one! Thanks for all your help in making this a great trip for me! I will certainly contact you again when I travel to other areas! Attached are some photos of the fish!
Its been a pleasure!


Cozumel. We had a great day with Nacho !!!!!!!!
Hi Daniel,

Despite bad weather, we had a great day with Nacho. He and his son worked very hard to keep us in fish the whole day, and you could tell that he really wanted us to do well, which is all you can ask from any fishing guide. Overall, it was a great experience and I would recommend Nacho to anyone.

Thanks,

Mills
mschenck2008@kellogg.northwestern.edu

Cozumel. I had a great time !!!!!!!
Daniel, I have been meaning to let you know how it went. I had a great time, even though my casting sucked! Nacho did a great job & put us on a ton of bonefish. I had lots of shots at tailing fish. We saw 1 permit & a few baby tarpon, snook & some big cudas, too. If I go back to Cozumel, lots of other places to see, I will be sure to connect with Nacho again! Thanks!


Cozumel. Daniel, Amy and I had a blast fishing with Nacho !!!!
Daniel, Amy and I had a blast fishing with Nacho. He was a good guide and put us on a lot of fish. We had a windy day but Nacho seemed to always position the boat just right. I would recomend him as a guide to anyone.
We boated about 8 bonefish and saw one school of permit but we weren't ready for them. I wish I could have spent another day there, maybe next time. Thanks again,

Tye


Cozumel - Mexico

Sorry I didn't get back to you earlier, I don't use the internet at home often as I'm on the computer all day at work. The fishing was great, Nacho gave me lots of shots at tailing bonefish, and I had a couple of shots at permit (no luck with the picky permit though). I caught more bonefish than I've ever had before. I haven't had the pictures developed yet but I'll send you some when I do. If i ever get back to Cozumel again, I'll use you and your guides again!

Mark Abercrombie
Calgary - Alberta
Canada
Cozumel, Mexico
Hi, Daniel!

My wife and I enjoyed our Cozumel vacation and the fishing time with Nacho. Everything went as expected. I would recommend Nacho to others wanting to flyfish Cozumel.

Thanks for your part in making our vacation memorable.

Gary
garyyost@msn.com
Cozumel , México
TONY AND I, (TODD) WANTED TO TAKE A MOMENT AND TELL YOU THANKS FOR THE GREAT FISHING TRIP. EVEN THOUGH WE DID NOT CATCH THAT MANY BONE FISH YOU WERE AN EXCELLENT GUIDE. BOTH OF US LEARNED ALLOT HOW TO FLY FISH FOR BONE FISH. WE ARE BOTH STILL AMAZED AT THE VERY LONG FLY CASTS THAT YOU COULD DO WITH SO LITTLE EFFORT. WE WILL RECOMMEND YOU TO OUR FRIENDS THAT COME TO COZUMEL TO FISH. I HAVE INCLUDED SOME PICTURES THAT YOU CAN PUT ON YOUR WEB SITE.

MUCHAS GRACIAS,

TODD W. KOCIAN

MAJOR TODD W. KOCIAN
MARFOR UNITAS 45-04
USS TORTUGA
EMAIL kociant@tortuga.navy.mil



Cozumel, México
Daniel,

I didn't get a chance to give you more info this morning as I just got back to my office from Mexico.

Alberto did a tremendous job providing food and drinks (coke, water, Pepsi). He also had all the equipment we required including a rain jacket! He was very knowledgeable about the local area and answered all my questions about bone fishing. He was very professional in handling the boat and treated me with much respect and courtesy. Although I have fly fished for many years and was able to cast with some accuracy I am sure Alberto could help both the experienced fisherman and the novice.

As I stated earlier the trip was a huge success for me. Thank you again for the excellent job you did in organizing my day. I look forward to fishing with Fly fishing Caribe again soon.

Best regards,

Steve
e-mail: snormann@cascadian.ca
Cozumel, México
Dear Daniel -

I just wanted to let you know that I had a FABULOUS time fishing with Nacho. He was a top notch guide (now if I can only get my casting there!)

I will be recommending your company and Nacho to

Bob Marriott's (Fullerton, CA)
The Flyfishing Specialist (Van Nuys, CA)
The Rivers Edge (Houston,TX)
The Fly Shop (Redding,CA)

as well as my fly fishing friends.

Can't wait to do it again, and please use me as a reference.

Jason Morey
e-mail: jmorey@moreymanagement.com


Cozumel, México
Daniel,

I've been wanting to write you for the past two days but, unfortunately,
I've been too busy to get everything written down.

Our day of fishing was wonderful and definitely the highlight of our trip to
Cozumel. It was obvious from the start of the day that Nacho is an
extremely good guide with a lot of experience. Both he and his son,
Alberto, were very good at spotting fish and teaching me the techniques for
bone fishing. A successful guided trip, to me, is one in which I learn how
to fish the area I am in and catch the sought after fish. I learned a lot
on this trip and, as a bonus, was successful in catching fish. It was a
great day!

Furthermore, Nacho also did a very good job of helping my girlfriend, Julee,
catch fish and better learn how to cast a fly rod. It was a great feeling
to look up from my fishing and see her having fun, casting to fish in the
flats! Nacho and Alberto really went the extra mile in making sure that our
trip was of the highest quality.

I have lots of friends that complain about the cost of guides in all sorts
of areas. It's guides like Nacho and his son Alberto that remind me just
how important and worthwhile it is to spend the money on a quality guide.
Assuming all of the guides listed in your service are of the same quality, I
know I will return to you for guide service for future fishing trips.

If you speak with Nacho or Alberto, please tell them Julee and I said hello
and relay the message that we had a great day with them last week.

Tight Lines,
Kevin Nunley
e-mail: kevin.nunley@mba.wfu.edu