Trip Overview
Challhuaquen, which in the local Mapuche language means "fishing place", is located in the Trevelin valley, Province of Chubut, on the bank of the Futaleufu river or Rio Grande, in front of the National Park Los Alerces, heart of the Argentinean Patagonia.

Created by and for fishermen, Challhuaquen's ultimate goal is to get the maximum pleasure out of an exceptional location for the practice of fly fishing. Based on that priority, qualified and personalized service provide all it is needed for a successful fishing season amid a luxury set up.

Thus, understanding the need for relaxation and privacy, the lodge has only six spacious and comfortable double guestrooms, each with private bath; all facing the Futaleufu river with the constant backdrop of the National Park and the Andeans on the horizon.
Similarly, acknowledging the fraternity aspect of fishing, Challhuaquen counts with ample and fully equipped common areas and a bar to rest and enjoy tying-fly with the company of a good friend and/or a fine drink.
Furthermore, thinking about the eventual desire to enjoy the maximum of luxury, the lodge offers a SPA, with sauna, hydro massage, scotch shower, and personal massages that also benefits from the magnificent river/mountain/park view.
Needless to say, and always aimed at satisfying the fishermen needs, all rooms have direct access to the Futaleufu river and to a dryer-room.
To complete the perfect flying fishing day, the chef at Challhuaquen Lodge has the skill to please international preferences or adventure those more curious to the culture of typical Patagonian dishes. Each meal is served in our homely restaurant with impeccable presentation, and accompanied by finest Argentinean wines.
Package
The fishing area called Comarca de los Alerces, is internationally known as one of the most important Salmonidal fishing places in the world. It is characterized for its big number of original glaciar lakes and hundreds of rivers and streams, with a variety of trouts as well as salmons, wich were introduced in this territory 100 years ago.

Challhuaquen is placed at the north shore of de Futaleufu river, considered itself one of the greatest fishing spots in the Patagonia.

The trout of Patagonia (brown, rainbow, and brook trout) averages 12-20 inches. Intermediate fly fishermen can expect to land trouts of over 20 inches and experienced anglers have a good chance of landing 5-15 pound trouts. Many rivers also contain landlocked salmon, which can exceed 10 pounds.

Challhuaquen and Patagonia offers a first class "off-season" fishing (November thru mid April), in a scenery very similar to the western states in the US, particularly Montana and Wyoming some 50 or more years ago.

Good fishing in crystalline waters, surrounded by glaciar lakes, millenarian trees, and magnificent landscapes are combined in Challhuaquen Lodge, with its elegance and comfort that will make such experience unique.
Fishing report
January 2018

During the month of January it experienced an unstable climate, with variations in the heights of the Futaleufú River and high water levels given the time of the year. These variations in climatic conditions made for the use of floating and sinking techniques alternately depending on the day. The best fishing happened with sinking lines and medium and small streamers (numbers 6/8/10), with flies such as the bichon fly, wooly buguers with rubber legs in black, olive green, orange and brown, black zonkers, etc. For the really sunny days with no wind, the rule was long leaders and dry flies, making use of droopers, with some chernobil ant, tarantula, Madame X, simulator, etc… Finally, there was some sightseeing of salmon at the end of the month, even catching one with a sinking line and wooly bugger right next to the lodge, while fishing the Blanco stream.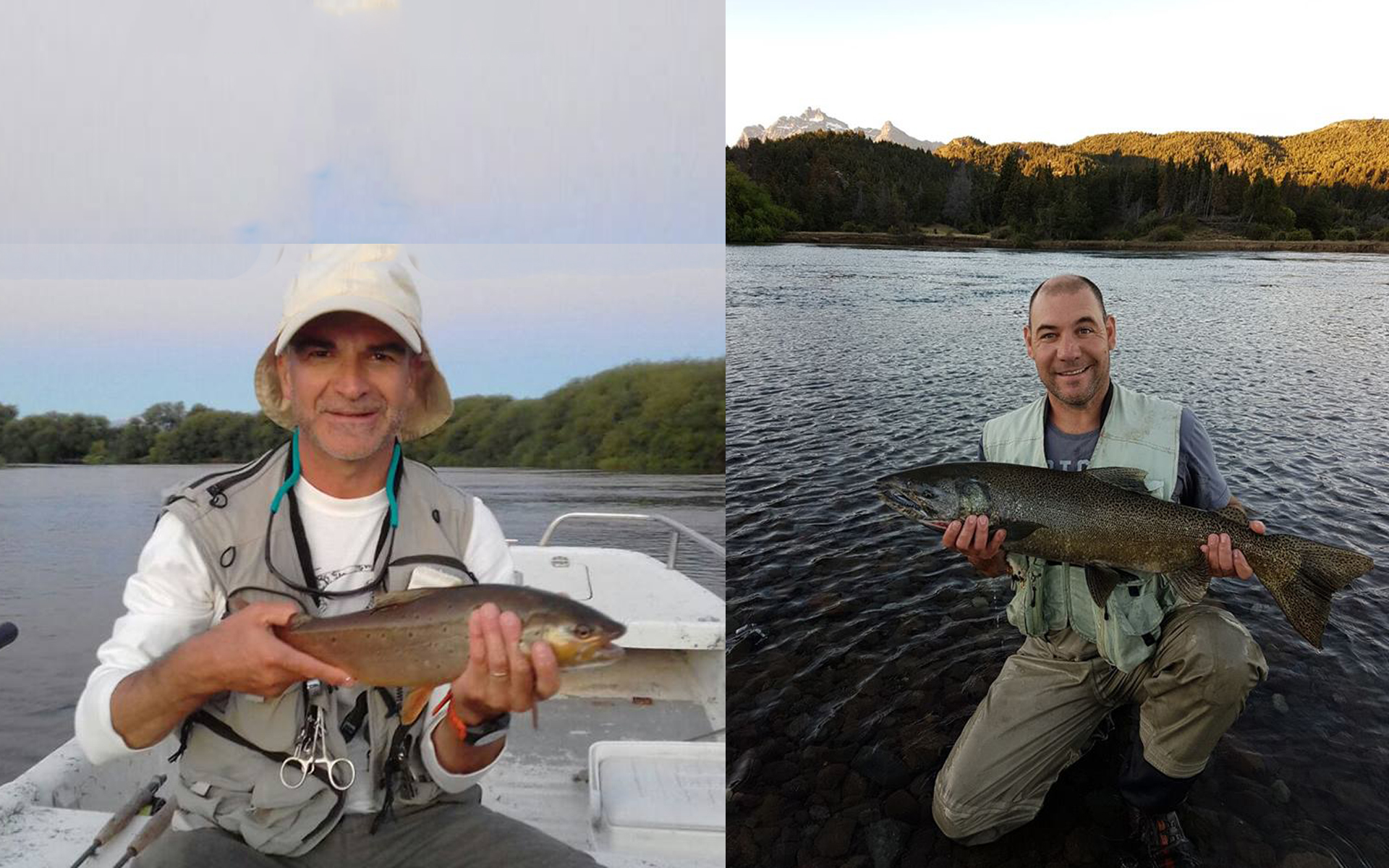 Testimonials
Patagonia: the best place to fish
Dear Daniel

After this trip I think Patagonia is the best place in the world to fish browns and rainbow. It seems there are fish in every lake, river or spring creek. And also very big fish. Fantastic!

My guide Walter was great, he is a very very good guide with lots of experience and makes perfect food for a fisherman after a long day. He was also willing to make changes in the schedule during the trip, really flexible guy.

We had some bad luck with the weather. The first 3-4 days we had NO wind at all and +20 to 25 celcius, which made the fishing a bit hard.

I got some really nice browns and rainbow around 2 kg and one bigger over 3,5 kg. My friend David caught a really nice brown in Lago 3 of approx 4 kg.
Overall very nice trip!

Best regards,

Hakan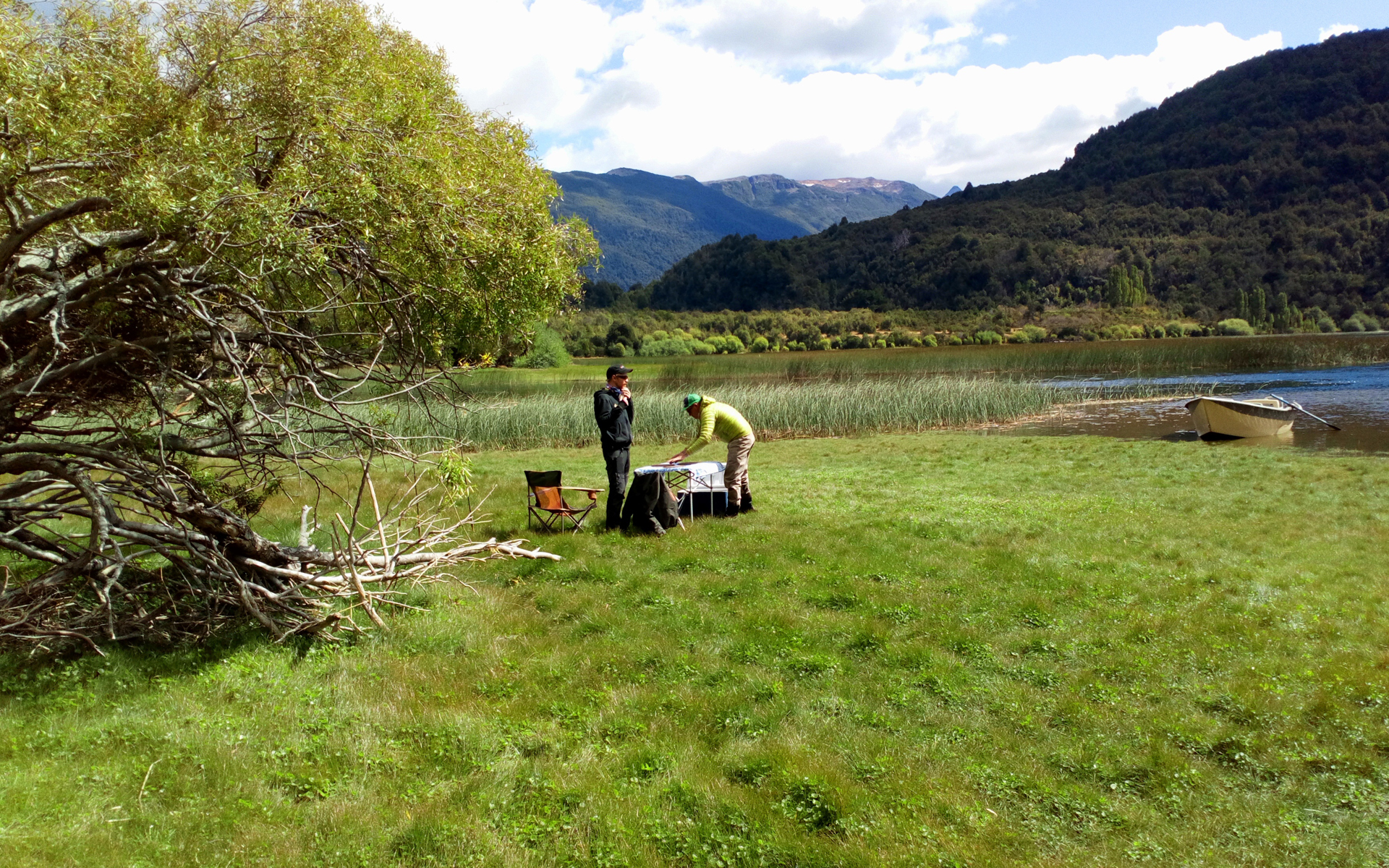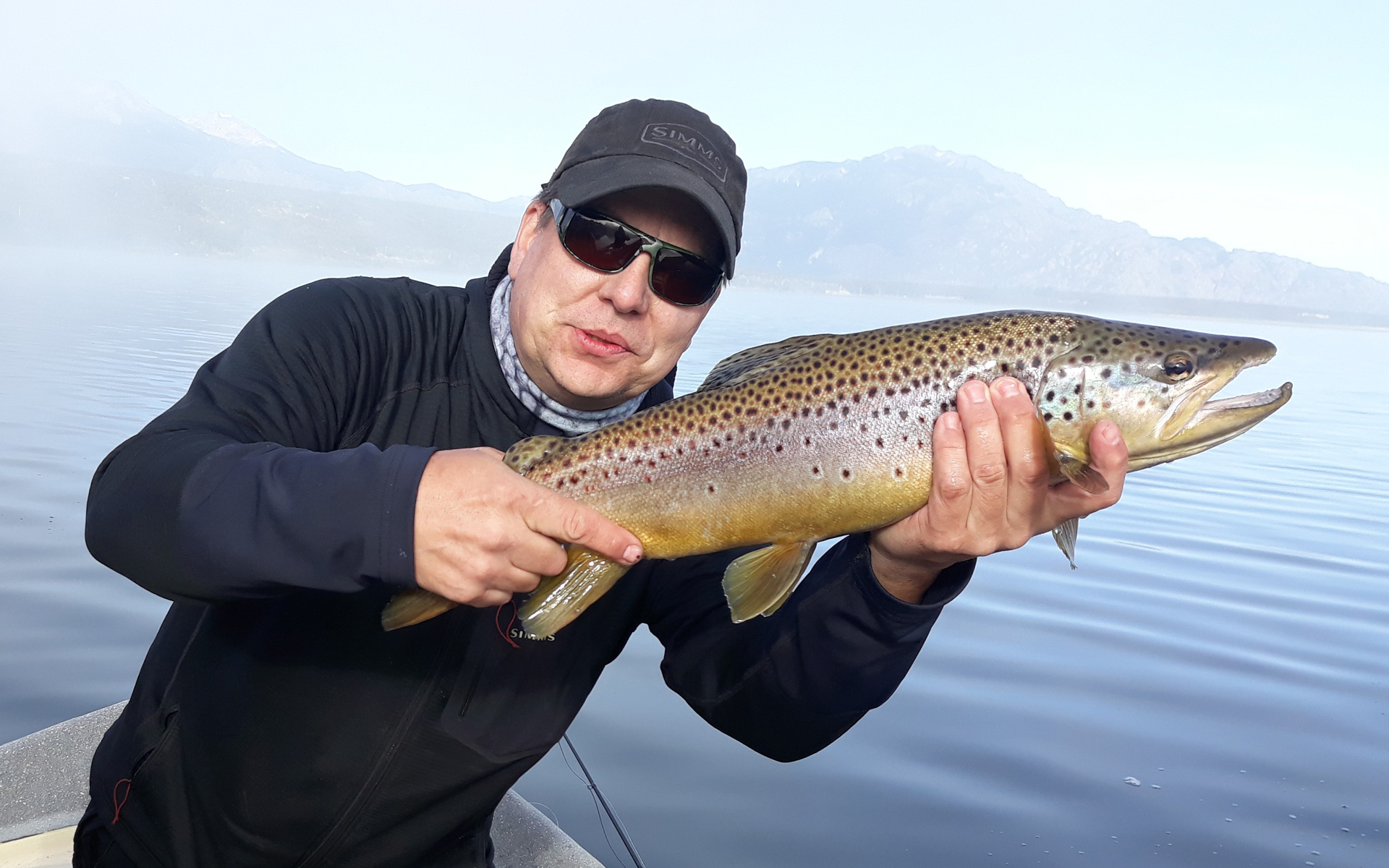 Just a short note to thank you again for making the arrangements for my travels
Hi Martina and Daniel:

Just a short note to thank you again for making the arrangements for my travels within Argentina and my stay at Challhuaquen Lodge. I returned to Los Angeles from Buenos Aires late yesterday morning, with a short layover in Miami to go through Immigration and Customs and change planes. And, Marta, a special thanks to you for the cars and drivers in Buenos Aires - everything worked perfectly.

The fishing was very good, although not nearly as good as it was last year (December, 2011) - we had very strong winds on all but two days (Monday, Dec. 24th, and Friday, Dec. 28th, and then only in the morning - the wind picked up considerably in the afternoon on both days). Since the wind precluded any insect hatches and generally put down the fish (not to mention making it very difficult to cast a fly line), by Friday morning (which was warm, sunny and calm) the fish were starving and began feeding very aggressively; Friday morning was the best session of fishing on the Futaleufu I have ever seen - we lost count of the number of trout I hooked and caught. It was astonishing

Muchas gratias!

Best regards.

Lou Eatman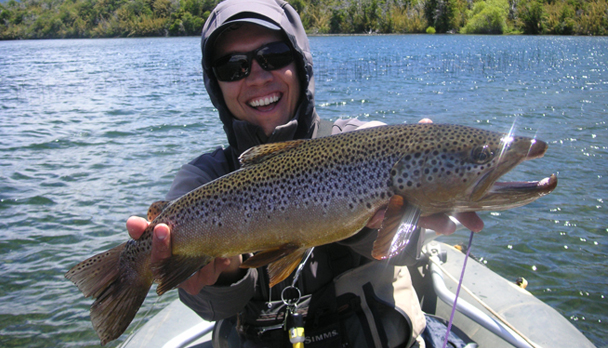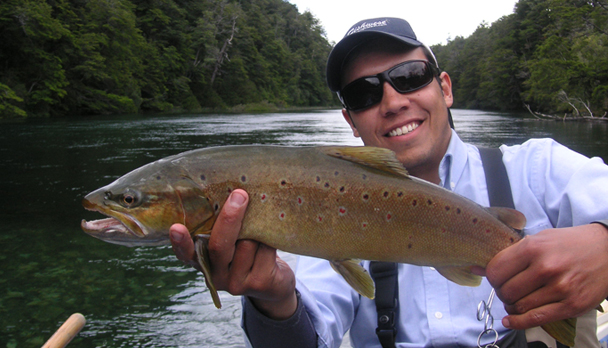 Thanks for the perfect organization!
Hi Pablo/Daniel,

Our trip was fantastic !! Thanks for the perfect organization. Both lodges were great!! At Los Laureles dove-shooting was outstanding, ducks was ok maybe it was to early of the season, the dorado fishing was very poor because the water was much too brown for fly fishing. But service and the guides were very welcoming and very nice. Food and wine was excellent.?
Challhuaquen Lodge is one of the nicest lodges I have ever seen. Everything was excellent. We enjoyed the fishing at different destinations. But a dreamfish (browntrout or maybe landlooked Atl. Salmon???) I caught in front of the lodge. Look at the picture!
So Connie, Johannes and I had a beautiful time in Argentina.

Best regards.

As usual, Challhuaquen Lodge and the entire experience were wonderful
Dear Daniel:

As usual, Challhuaquen Lodge and the entire experience were wonderful. All the people at the Lodge were extremely nice and now treat me as "part of the family". I spent four days fishing the Futaleufu (catching many, many rainbows and a few browns), one day fishing Laguna Larga (exclusively brown trout and lots of them) and one day fishing Rio Rivadavia (I caught about 20 trout, including one brook trout and one very large brown trout [and hooked and lost another 15-20 trout] - for a "grand slam", as my guide Pablo Manavella phrased it - best I've ever done on that wonderful stream). It's a long distance for me to travel from Los Angeles, but it's well worth it. Thanks very for all your help. I hope all is well with you.
Best regards.
Lou
Challhuaquen. The fishing was fantastic !!!
Dear Daniel:

My week at Challhuaquen was fabulous. The fishing was fantastic (the rainbows in the Futaleufu were feasting on mayflies most of that week and I caught dozens and dozens of them using a No. 14 Adams dry fly, and I also caught several large brown trout) and Gustavo and his staff treated me like a king. Guillermo Sagui was my guide all week and he was terrific. We have become good friends.

Happy New Year to you as well. All the best.

Lou