Dear Martina,

We had a good time in Cuba, especially the fishing.
About permit, I got mine! Attached is the picture, for me the crown on a fly fisherman's work. It was a day with bad weather, many clouds so the site was bad, some rain and a lot of wind. During the day we got to see 5 permit, some of them we couldn't even get close to have a shot at them, but in the afternoon we got two changes and one of them was a hit. A very good day!

Concerning tarpon, it was the first time I was fishing for them with a #11 wt fly rod. I fished a nice tarpon, see picture attached. I also hooked a very big one, estimated by the guide around 150 lbs! I couldn't land it though, but the guide counted it as a catch since the leader touched the rod. Anyways, as it was very big we had to go to shallow waters in order to properly land it. At the very end while the guides were trying to manage the tarpon, the 110 lbs tippet broke... Man that tarpon was a good work out for over one hour!
Another day with the wind blowing 6 beaufort we were on open sea by the beach and again a big tarpon was hooked, around 70 lb. The guide told me that it was a male because when it got hooked, it ran off immediately, opposite to the big previous one I lost. After a good fight, once in the guide's arms, the tarpon managed to escape... no picture, but a good fight memory.
We also saw and hooked about 4 other tarpon but the line broke or/and I missed the fish. I also learned that day form the guide, how to cast for long distance shoots with #12 wt flyline in two strokes againit the wind force 6 to 7 beaufort in open sea. It was great experience on it self and hard work!

Finally I got 20 average bonefish. I think because of the weather the days were better for permit and tarpon.

About the fishing I can say the weather was not optimal but the guides were very good, they have a great knowledge of the area and share their passion for fly fishing!!

Thanks.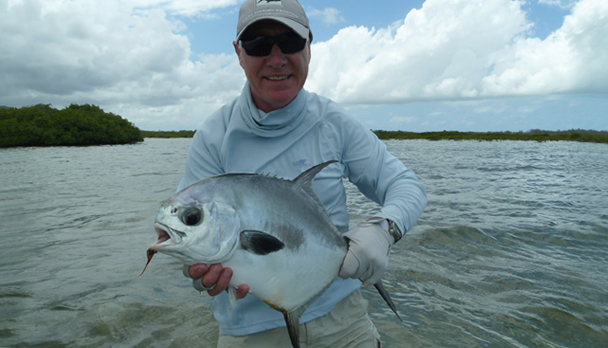 GO TO DESTINATION: CAYO COCO / GARDENS OF THE KING