Just got back from my last trip to Tsimane, Bolivia, where I shared a fabulous fishing week with friends. Our destination was Agua Negra and Asunta, today known as Secure Lodge. Upon our arrival to Santa Cruz de la Sierra, Bolivia, we were transferred to a cosy boutique hotel called 'Casa Patio' hosted by its owners Nicole and Manuel, very nice and friendly people. Saturday morning we were called up very early, to tell us that our charter flight to Oromomo was departing earlier due to a storm. Therefore we had to rush and were driven to Trompillo domestic airport. In the airport we met with the other fishing group that was travelling to Pluma Lodge and were accommodated in a different hotel than ours. We were divided in 5 small airplanes. The flight lasted no longer than 2 hours and when we landed we met the lodge manager and also the anglers that were returning from their fishing week, who all said our week was going to be good due to the rains in the last few days and water levels were higher.
Our group of 6 anglers was divided in 3 boats to go upstream to the lodge. When we arrived to Coruja we had to get off the boats and walk since the water level was very low, while the staff was taking care of our luggage we were able to see some sábalo swimming upstream and golden dorados biting their tales... it was a good sign.

After almost 3 hours of navigation we arrived to the Auga Negra Lodge where we accommodated our stuff in our tents, safari like, had lunch and prepared our equipment (rod #8 with floating tropical line, steel shock tippet of 40 lbs and big streamers). Each couple was assigned a guide and a different section of the river; Carlos and Pedro went to Agua Negra, Eduardo and Raul downstream the Lodge waters and Willy and me upstream the Lodge waters. That afternoon we were able to fish for 3 hours but with poor results, in my case I didn't have any hook up at all.

Sunday, we rotated fishing zones and ours was Agua Negra. Fish Agua Negra is a particular experience, we're talking about a river (almost a stream) of 33 to 49 ft., not deep, with waters clearer than the Secure and hosts very well fitted dorados. Before heading up stream we tried luck casting to some fallen trees, with shoots no longer than 30 ft and in less than half an hour I landed 2 golden dorado around 15 lbs each.
In this operation it is forbidden the use of hooks with barb, only barbless hooks are permitted, so it is very important to maintain the tension on the line while you're fishing.
Heading upstream Willy and I had various hook ups and along the day we landed 12 fish (5 Willy and 7 myself) between 9 and 18 lbs. Our friends also had a good fishing day, the best catch was from Carlos Cristini with a 26 lbs golden dorado.

Monday we were assigned Secure river downstream from the Lodge. We all did a nice job that day but the highlight was a surubi (typical south american cat fish) of @26 lbs caught by Eduardo in Agua Negra, and also 2 pirapitinga of 15 lbs fished by Willy and me. It was remarkable how our pirapitinga bit our streamer fly with such aggressiveness!

Tuesday was the Lodge exchange day, we sailed out and fished up stream the Secure with the intention of having lunch in a middle point between our group and the other group that was coming downstream from the other lodge located, upstream.
After lunch we had to change boats and continue with the guides to the Secure Lodge until the last day of the program. That day because the navigation time is quite a lot, we went through amazing fishing spots which we couldn't actually fish because we're running against time. Nevertheless I was able to fish a pirapiting of 15 lbs, which gave me quite a fight since it stayed in the middle of the river where the current was strong, I was also able to fish 4 dorados of 11 lbs. Everyone in the group was able to fish; Eduardo who was sharing my boat, landed a 16 lbs dorado and Raul hooked his first pirapitinga of 6 lbs.
We arrived to the Secure Lodge around 18 hrs, we got settled in our tents (the same structure as Agua Negra Lodge) and after dinner we shared our stories of the previous days with a drink in the comfortable living room. Fernando Beltran, the lodge manager, commented about the fishing options for the following days. Willy and Eduardo decided to go the camp upstream the Secure River, adventure which would take them half day trekking to arrive to the camp, they would fish in the afternoon, camp at night and return the following day in the afternoon after fishing in the morning. In the meantime, Raul and I would go fishing the Secure starting above the ex Home Pool up to the Cañon and Carlos with Pedro would go downstream from the Lodge.

Wednesday we fished with Raul 1 pirapiting each, of approx 15 lbs and mine of 20 lbs, besides some golden dorado as well. The Secure upstream has become a river quite narrow, with more runs and pools, and the jungle extends almost on top of the river. On the beaches we could see jaguar footprints, trails of tapir in some places and many birds, too. Carlos fished very well with nice and big catches, and so did Pedro, but around 16.30 hrs a very hard rain started, sort of a thunderstorm and we had to return immediately to the Lodge. The first though we all had was 'Willy and Eduardo' and the hard time they would be having with the storm, moreover the danger they're exposed being the camp so close to the river... but for our surprise and sake before sunset we saw them returning to the Lodge "alive and healthy" though soaked! They told us they decided to return during the late afternoon when they saw the river started to grow quite fast and while riding the canoe they almost flip twice.
That night while having dinner we all discussed the fact of how would the rain and the higher waters affect the fishing, most of all because the river becomes turbid and the fish are impossible to catch.

So it was, that Thursday we all had a very poor fishing day, with exception of Pedro and Willy who both had a blast fishing the cascade of the ex Home Pool during the afternoon before returning to the Lodge.
Pedro's catch had an extra ingredient of excitement since the dorado he hooked of approx. 11 lbs, had bitten the fly in a very complicated spot between rocks and strong runs, and in order to avoid the fish to go down the cascade, Fernando the guide, got himself in the water and dived a couple of times until he grabbed the fish's tail!!! Pedro had an inexplicably happiness, was very very grateful with Fernando and said it had been "the best catch of his life". We all celebrated with him that night!

On Friday, our last fishing day, the results were much better... the water level had dropped rapidly and it was clearer. Pedro and Carlos went Secure upstream to try fish for pirapitinga but had no luck in that alley, instead they caught some golden dorado and Carlitos, lucky and experienced as always, landed one of 26 lb. Raul and Eduardo went fishing downstream the Lodge where Raul caught a 22 lbs surubí and some smaller dorados. Willy and I went further downstream, with a harder beginning but the fishing got better after midday when we approached a waterfall with good current and lots of sábalo swimming upstream. We fished very well with streamers and I adventured to try an articulated mouse... after some casts letting the line drift, I hooked a spectacular dorado of @24 lbs, and later that day I landed 2 more giants of 22 and 26 lbs and a yatorana also with the mouse fly. Willy had many hook ups which he lost but finally he landed a nice dorado of 18 lbs.

That afternoon we were all very happy of being able to enjoy the week in an amazing and unique spot, with great fishing and amongst friends. The total catches of the week were: 77 golden dorado, 6 pirapitinga, 2 surubí and 2 yatorana.
The sounds of the jungle are still in my memory and I dream of going back to Tsimane soon!
Thank you Carlitos Cristini, Pedrito Güiraldes, Willy Porta, Eduardo Valenzuela and "gallo" Raúl Pinochet for sharing the week with me and for the good vibes!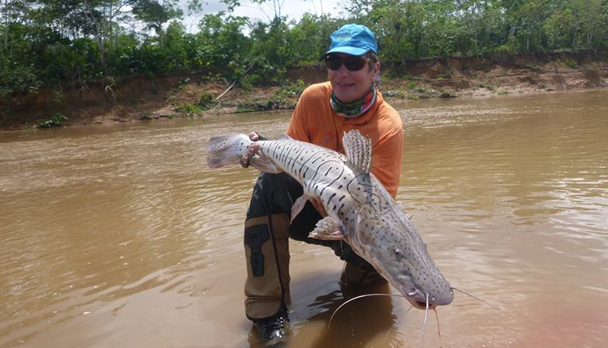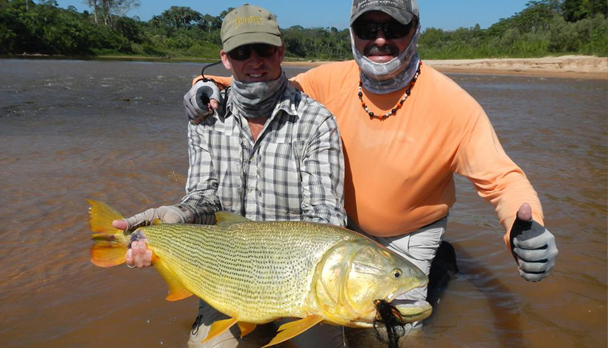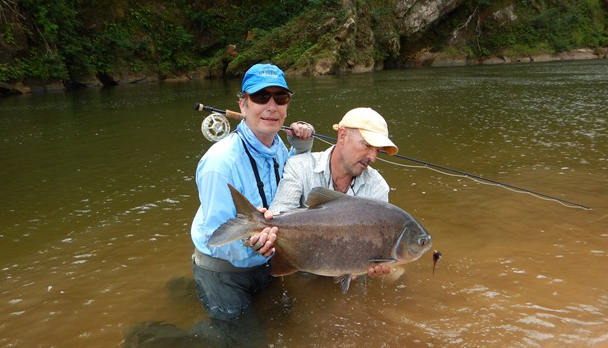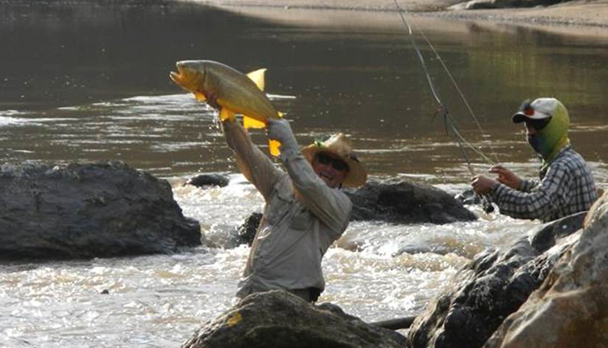 GO TO DESTINATION: TSIMANE