Trip Overview
The Alphonse atoll group is considered one of the most pristine, untouched Edens of the world, making it a nature lover's paradise. The magnificent island threesome comprising Alphonse, St Francois and Bijoutier lies in the very heart of the Indian Ocean as part of the Seychelles outer island group.
It is blessed with one of the world's healthiest climates, and miles of unblemished shorelines, lagoons and sea flats.

In addition to the abundant bonefish flats, the lagoon envelopes coral finger flats and coral heads allowing anglers to catch several of the now 60 species targeted on fly, including three species of triggerfish, seven species of trevally, milkfish, barracuda, sailfish, dogtooth tuna, yellowfin tuna and a plethora of other flats and offshore species. Sight fishing for giant trevally is one of the most exhilarating forms of fly fishing one will ever experience, especially when they grow in excess of 150lbs.

Seychelles is typically hot and somewhat humid with midday temperatures hovering at 90º Fahrenheit. The main fishing season runs from early October to the end of May.
Package
Upon arrival you'll be transported to the hotel together with the Management team and will have a brief explanation of the opration dynamics.
After the briefing you'll be accommodated in your rooms. During the afternoon you'll ride on a bike to the marina where anglers will prepare the fishing tackle and get all the information needed for the fishing experience.

A typical fishing day goes as following:
Breakfast is served at 6.00 hs am and anglers meet at the fishing centre at 06.45 hs. The team will be ferried in the mother ship for a 40 minute trip up to St Francois lagoon. Once arrived teams of 2 anglers and a guide will get on their own skiffs and commence their 8 hour fishing session. At 16 hs guides will begin their return to the mother ship and the departure back to the hotel is expected around 17 hs.
Dinner is served at 19.30 hs.
Tackle and Flies
Reels: for saltwater and a good brake system, 20 pound test backing for line #8 and 30 pound test for lines # 10-#12 and # 14.

Lines: for saltwater and tropical weather for rod #8 Wt, WF floating line; for rod # 10 Wt, WF floating line and 300-350 grain sinking line; for rod #12 Wt and #14 Wt, 400-600 grain sinking line.

Leaders: 9 feet and 20 pounds of fluorocarbon or monofilament tapered leaders. Fluorocarbon spools of 15, 20, 40, 60, 80 and 100 pounds.

Flies for GT, Bluefin and Dorado: EP Blue Back Herring; EP Peanut Butter Olive/Polar; EP Peanut Butter Gray; EP Anchovy; EP Mackerel; Rainy's Bubblehead Green Yellow; Rainyi's Bubblehead Olive/Silver; Leftys Deceivers; Large Clousers; etc. Hook # 2/0 and # 3/0.

Flies for Bonefish: Gotcha; Crazy Charlie; Bonefish Special; Spawning Shripms; Bo ogle Head; Borki's Bonefish; etc.. Hook # 4 and # 6.

Flies for Permit: Del's Merkin; EP Floating Crab; AVALON's Fly; Bauer's Crab-Tan; Rag Head Crab Tan; etc..Hook # 4 and # 2.

Flies for Billfish: FPF Ballyhoo blue/pearl/red; FPF Hot Fish; FPF Black Attack; Billfish Popper; FPF Squid; Leftys Deceivers; etc.. Hook # 5/0 and # 6/0.
Turbo Popper with hook # 6/0 or Klingon Billfish Fly also with hook # 6/0 or Flashy Profile Billfish Fly.
Image Gallery
Click on any image to view the whole gallery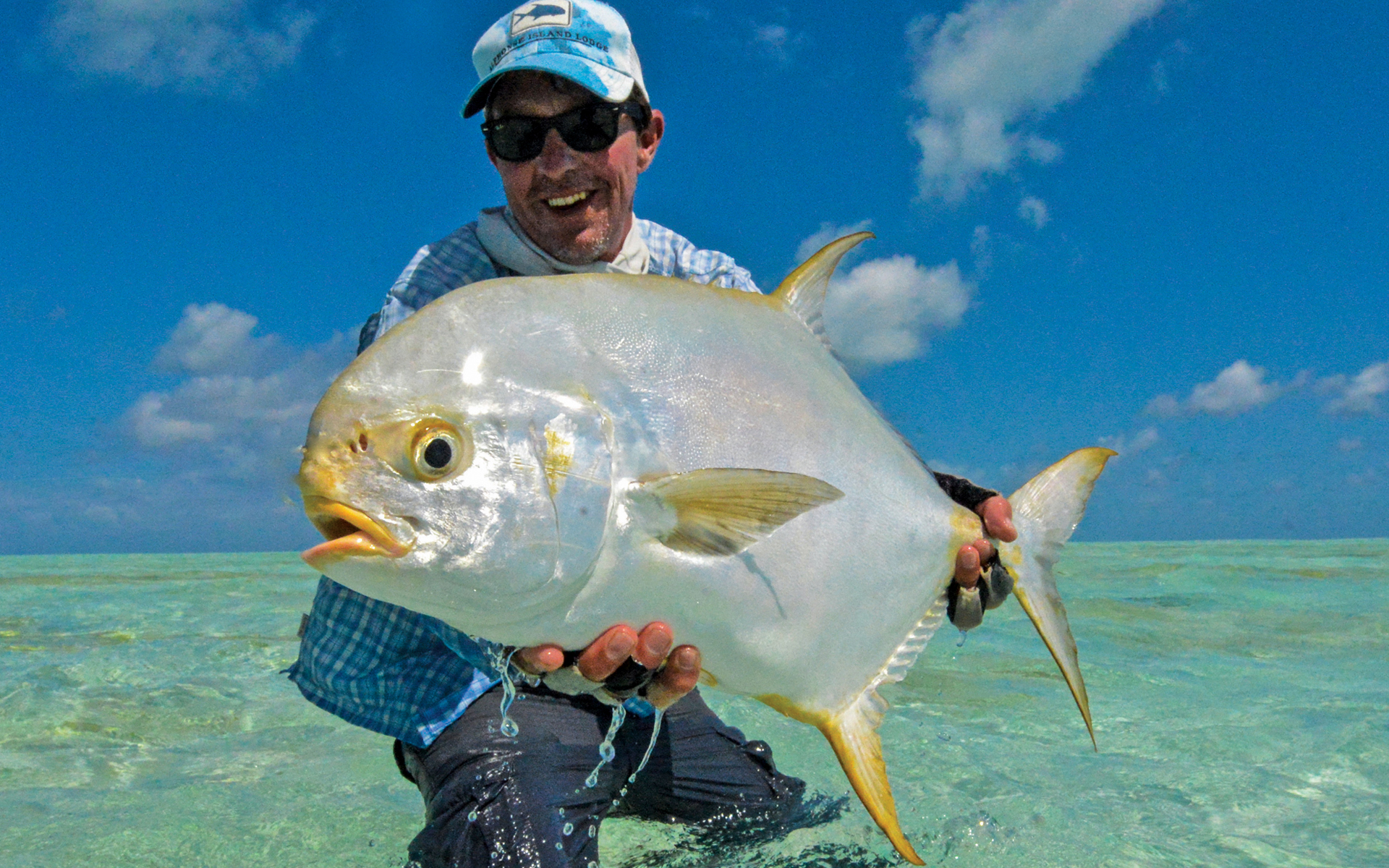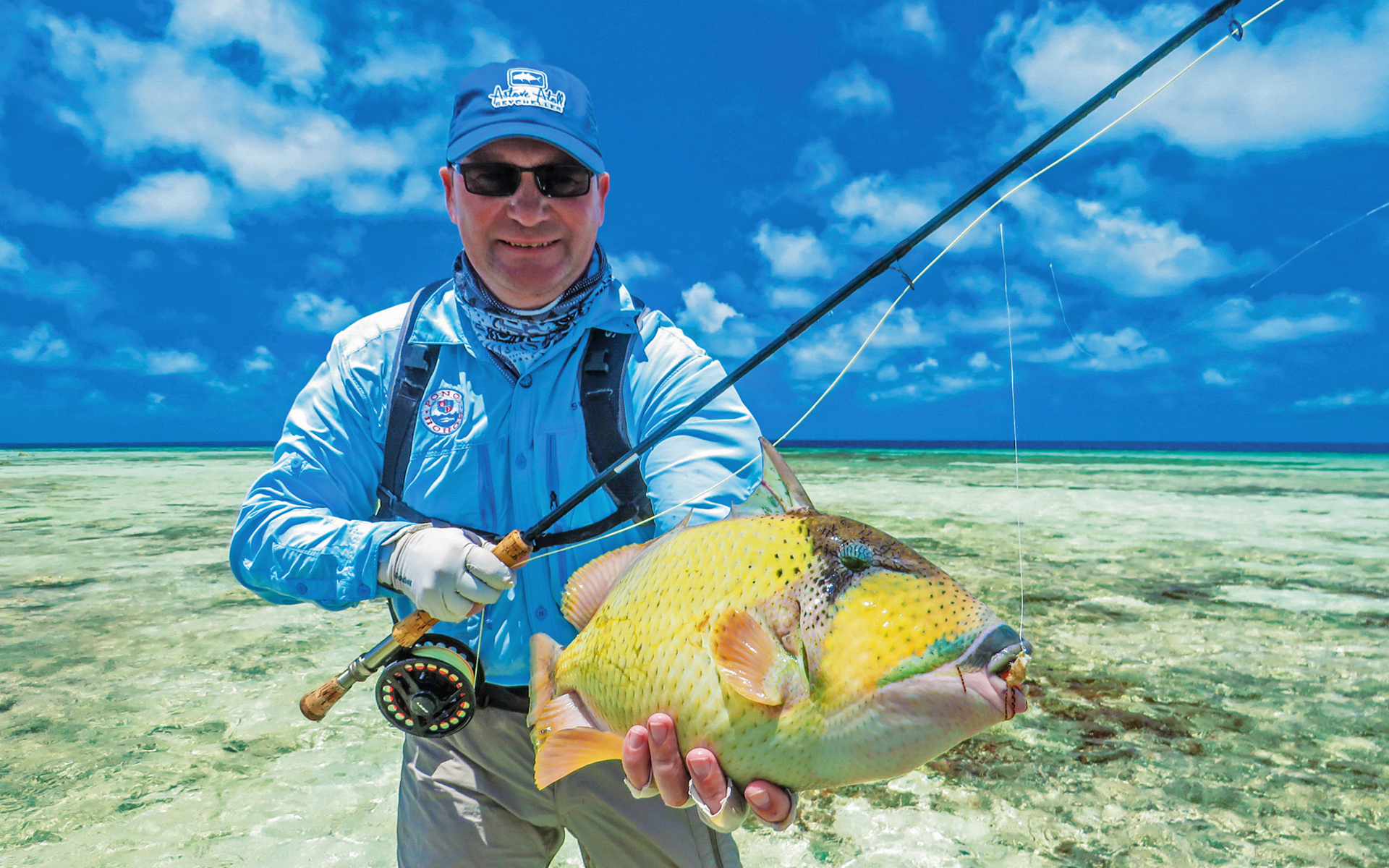 Fishing report
December 2022

The week began with less-than-ideal weather but cleaned up slightly towards the end of the week. The anglers remained persistent, and some good fish came to hand.

Once again, the bonefish on St Francois were present in their thousands, and after most of the anglers warmed up with bonefish on the first day of the trip, their focus turned from the ghosts of the flats to the gangsters of the flats.

Most of the anglers were in pursuit of a monster giant trevally and they were not disappointed by the number of fish seen and landed. The most successful angler of the week was Niall Turley. Niall landed four GTs throughout the week with the first three measuring fish 68 cm, 71 cm, and 77 cm respectively. The fish of the week, and Niall's largest GT was a beautiful just-over-the-metre mark fish, taking the tape measure to 101 cm, the GT was caught on Milky Way finger. It was quite the battle, the fish seemed to have the upper hand after breaking Niall's rod but he stayed calm and kept on working for it, and eventually, it came to hand. Niall added nearly half to the total tally of the nine G's landed throughout the week.

Targeting triggers for the week was made difficult by either the tides or the weather, but there were a few windows where the tides were perfect and the conditions were good. One thing was for sure, there were plenty of triggers around, but sticking true to their notorious behaviour, after many refusals only one moustache was landed during the week.

Bernard fished Alphonse during the week, he went for the species count and did very well. He caught countless different species of fish including bohar snappers, blue spangled emperors and bluefin trevally to mention a few, by the end of the week he'd also managed to land two GTs measuring 70 cm and 75 cm.

Stay tuned for next week's report.

Tight lines!