Trip Overview
Cosmoledo Atoll is situated a stone's throw away from the world heritage site of Aldabra, which is often referred to as the Galapagos
of the Indian Ocean.
Cosmoledo comprises of a larger white sand lagoon surrounded by 18 islands, numerous flats and two main channels. It is one of the most remote inhabited islands in the Seychelles, and can accommodate up to 10 fly fishermen per trip.
It's an untouched ecosystem full of hungry, tackle-busting giant trevally. Cosmoledo's large white sand flats, lagoon edges and channels are, without question, ruled by the notorious giant trevally, so much so that it is often referred to as the GT capital of the world. These fish are, however, not the only species that can be found here in impressive numbers. Large bonefish, bluefin trevally, bohar snapper, barracuda, milkfish, the finicky Indo-Pacific permit and a host of triggerfish species all call Cosmoledo home.
Package
The charter flight will depart Mahé and after 3 hours will arrive to Astove island, where the team will be transported on a vessel to Cosmoledo Atoll. During the trip, anglers will be briefed about the fishing and the area as well. Upon arrival anglers will be accommodated in their rooms and get their tackle ready.

A typical fishing day goes as following:
Breakfast is served at 7.00 hs and anglers are ready to leave the lodge at 08.00 hs. Anglers can choose between a packed lunch or return to the lodge for lunch. Teams will head back to the lodge around 17.00 hs.
Dinner is served at 19.30 hs.

Tackle and Flies
Reels: for saltwater and a good brake system, 20 pound test backing for line #8 and 30 pound test for lines # 10-#12 and # 14.

Lines: for saltwater and tropical weather for rod #8 Wt, WF floating line; for rod # 10 Wt, WF floating line and 300-350 grain sinking line; for rod #12 Wt and #14 Wt, 400-600 grain sinking line.

Leaders: 9 feet and 20 pounds of fluorocarbon or monofilament tapered leaders. Fluorocarbon spools of 15, 20, 40, 60, 80 and 100 pounds.

Flies for GT, Bluefin and Dorado: EP Blue Back Herring; EP Peanut Butter Olive/Polar; EP Peanut Butter Gray; EP Anchovy; EP Mackerel; Rainy's Bubblehead Green Yellow; Rainyi's Bubblehead Olive/Silver; Leftys Deceivers; Large Clousers; etc. Hook # 2/0 and # 3/0.

Flies for Bonefish: Gotcha; Crazy Charlie; Bonefish Special; Spawning Shripms; Bo ogle Head; Borki's Bonefish; etc.. Hook # 4 and # 6.

Flies for Permit: Del's Merkin; EP Floating Crab; AVALON's Fly; Bauer's Crab-Tan; Rag Head Crab Tan; etc..Hook # 4 and # 2.

Flies for Billfish: FPF Ballyhoo blue/pearl/red; FPF Hot Fish; FPF Black Attack; Billfish Popper; FPF Squid; Leftys Deceivers; etc.. Hook # 5/0 and # 6/0.
Turbo Popper with hook # 6/0 or Klingon Billfish Fly also with hook # 6/0 or Flashy Profile Billfish Fly.
Image Gallery
Click on any image to view the whole gallery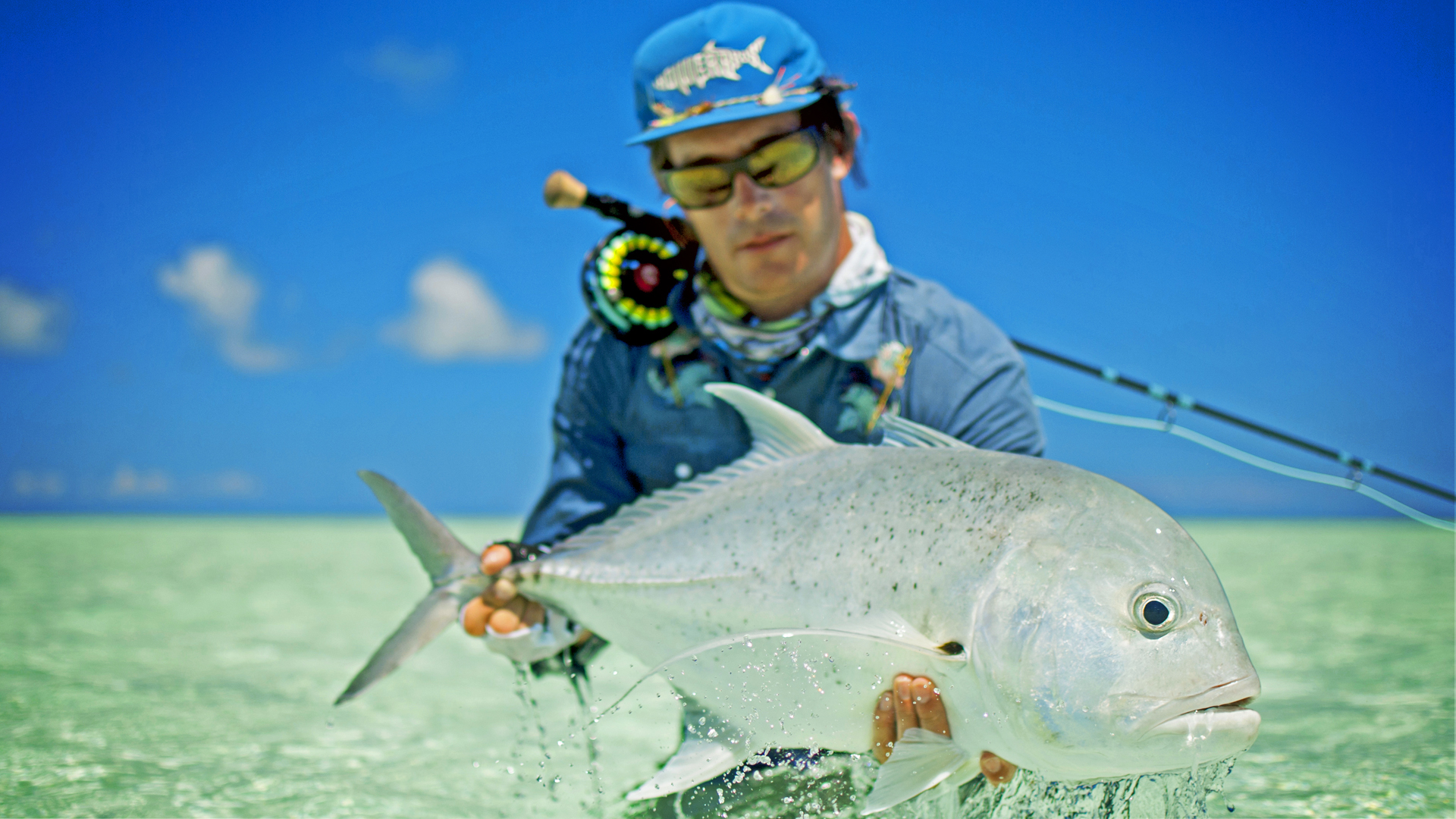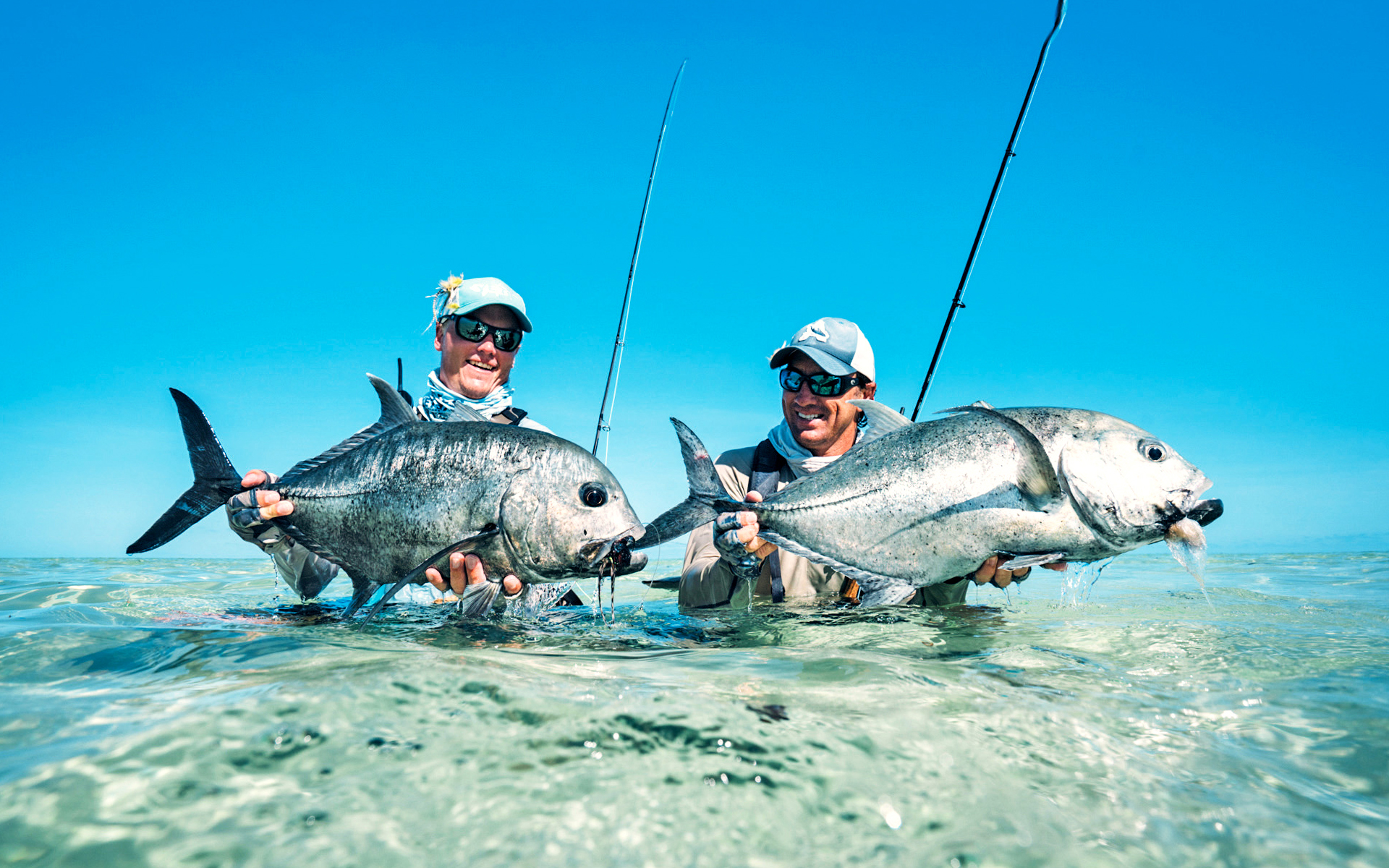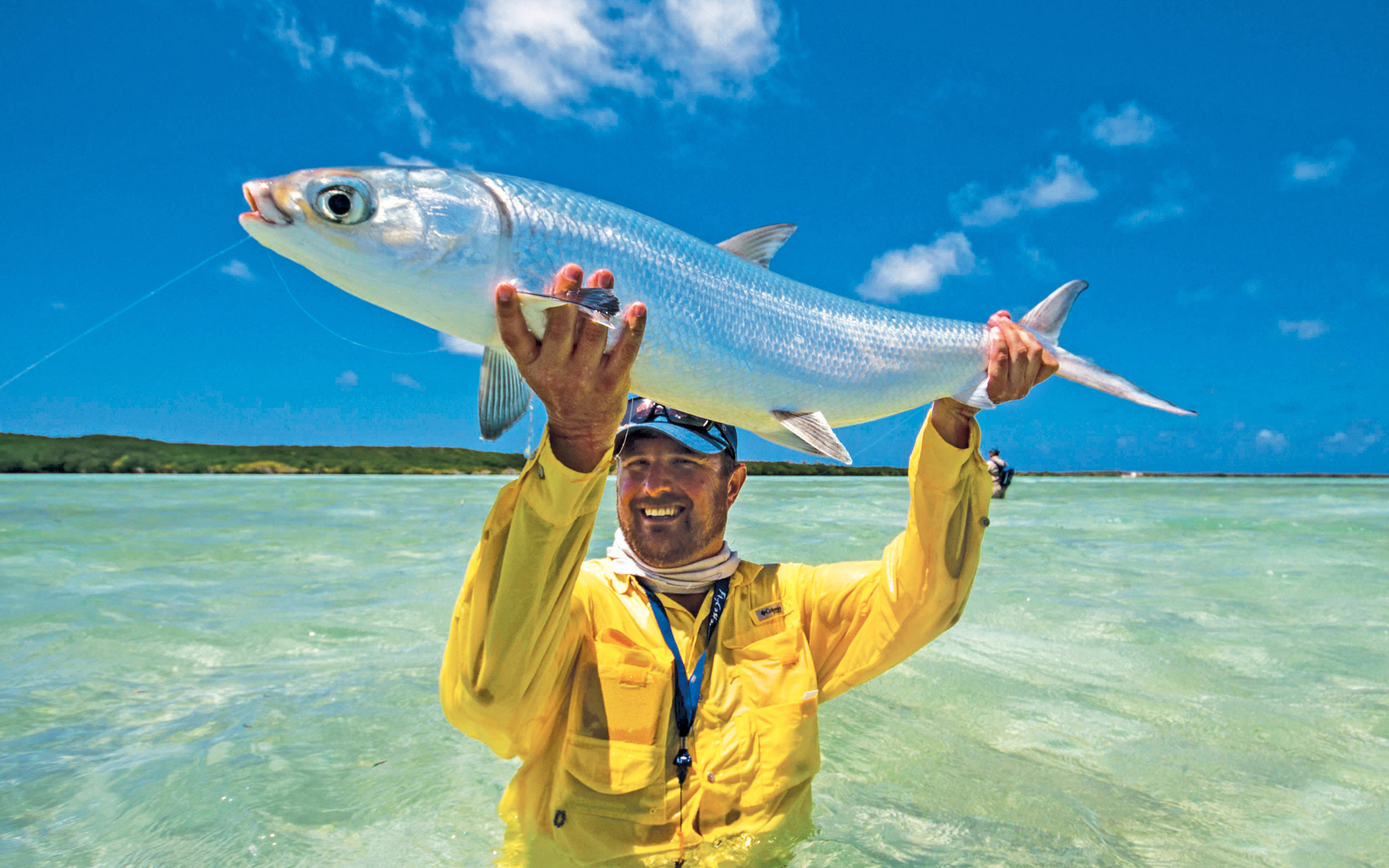 Fishing report
April 2022

Week 16 bought 12 anglers to Cosmoledo, with slow moving tides to start the guides were on the search for some big fish.

Stephan Kreupl, Michael Sarkesian and Olafur Vigfusson made their guides efforts count and landed GTs ranging from 97 cm - 126 cm just on the first day. Stephan landing the largest fish of the week and a personnel best for him of 126 cm.

The GT numbers seen for the week where impressive and everyone capitalised on this, landing a good few fish per day. In the middle of the week there was some ugly weather but regardless of start delays and terrible light loads of bonefish and some special triggers where caught. Stephan managed a very large yellowmargin trigger which was his first yellowmargin landed for him. Marco Löcher also landed his first triggerfish which was a beautiful moustache.

With all the great fish being landed it was hard to think it could get any better, but it did. Steve Hardle and Patrick Keenan celebrated a magical moment together when they both hooked into their personal bests and both fish where over a metre. Patricks GT being 101 cm and Steve's GT 106 cm.