Trip Overview
Astove has become synonymous with the largest flats-caught GT's in the Indian Ocean. Its shallow lagoon and small entrance, surrounded by sheer drop-offs makes the experience truly unique.
This lagoon is a sanctuary for both juvenile and trophy-size fish that feed on the shallow white sand flats that line the inside of the lagoon.
Astove is small and is surrounded by coral flats with deep drop-offs on the flats edge allowing predators easy access.

Not only does Astove have large GT's but it also has an equally impressive bonefish, permit, bluefin trevally, triggerfish, barracuda and milkfish population. With the numbers of permit caught ever increasing from season to season, if you are after achieving a "Grand Slam" this should certainly be your destination of choice.

Seychelles is typically hot and somewhat humid with midday temperatures hovering at 90º Fahrenheit. The main fishing season runs from early October to the end of May.
Package
The charter flight departs IDC hangar and lands on Astove three hours later. On arrival the group will be transferred to the lodge where orientation and tackle set up begins. After lunch guests can start fishing with an unguided session on foot before sunset.

A typical fishing day goes as following:
Breakfast is served at 7.30 hs and fishing begins at 8.30 hs. Lunch is packed for each group and is enjoyed while out on the flats during fishing. Anglers will be back at the lodge at 17.30 hs, but can continue fishing unguided until sunset by themselves near the lodge. Dinner is served at 19.30 hs.
Tackle and Flies
Reels: for saltwater and a good brake system, 20 pound test backing for line #8 and 30 pound test for lines # 10-#12 and # 14.

Lines: for saltwater and tropical weather for rod #8 Wt, WF floating line; for rod # 10 Wt, WF floating line and 300-350 grain sinking line; for rod #12 Wt and #14 Wt, 400-600 grain sinking line.

Leaders: 9 feet and 20 pounds of fluorocarbon or monofilament tapered leaders. Fluorocarbon spools of 15, 20, 40, 60, 80 and 100 pounds.

Flies for GT, Bluefin and Dorado: EP Blue Back Herring; EP Peanut Butter Olive/Polar; EP Peanut Butter Gray; EP Anchovy; EP Mackerel; Rainy's Bubblehead Green Yellow; Rainyi's Bubblehead Olive/Silver; Leftys Deceivers; Large Clousers; etc. Hook # 2/0 and # 3/0.

Flies for Bonefish: Gotcha; Crazy Charlie; Bonefish Special; Spawning Shripms; Bo ogle Head; Borki's Bonefish; etc.. Hook # 4 and # 6.

Flies for Permit: Del's Merkin; EP Floating Crab; AVALON's Fly; Bauer's Crab-Tan; Rag Head Crab Tan; etc..Hook # 4 and # 2.

Flies for Billfish: FPF Ballyhoo blue/pearl/red; FPF Hot Fish; FPF Black Attack; Billfish Popper; FPF Squid; Leftys Deceivers; etc.. Hook # 5/0 and # 6/0.
Turbo Popper with hook # 6/0 or Klingon Billfish Fly also with hook # 6/0 or Flashy Profile Billfish Fly.

Image Gallery
Click on any image to view the whole gallery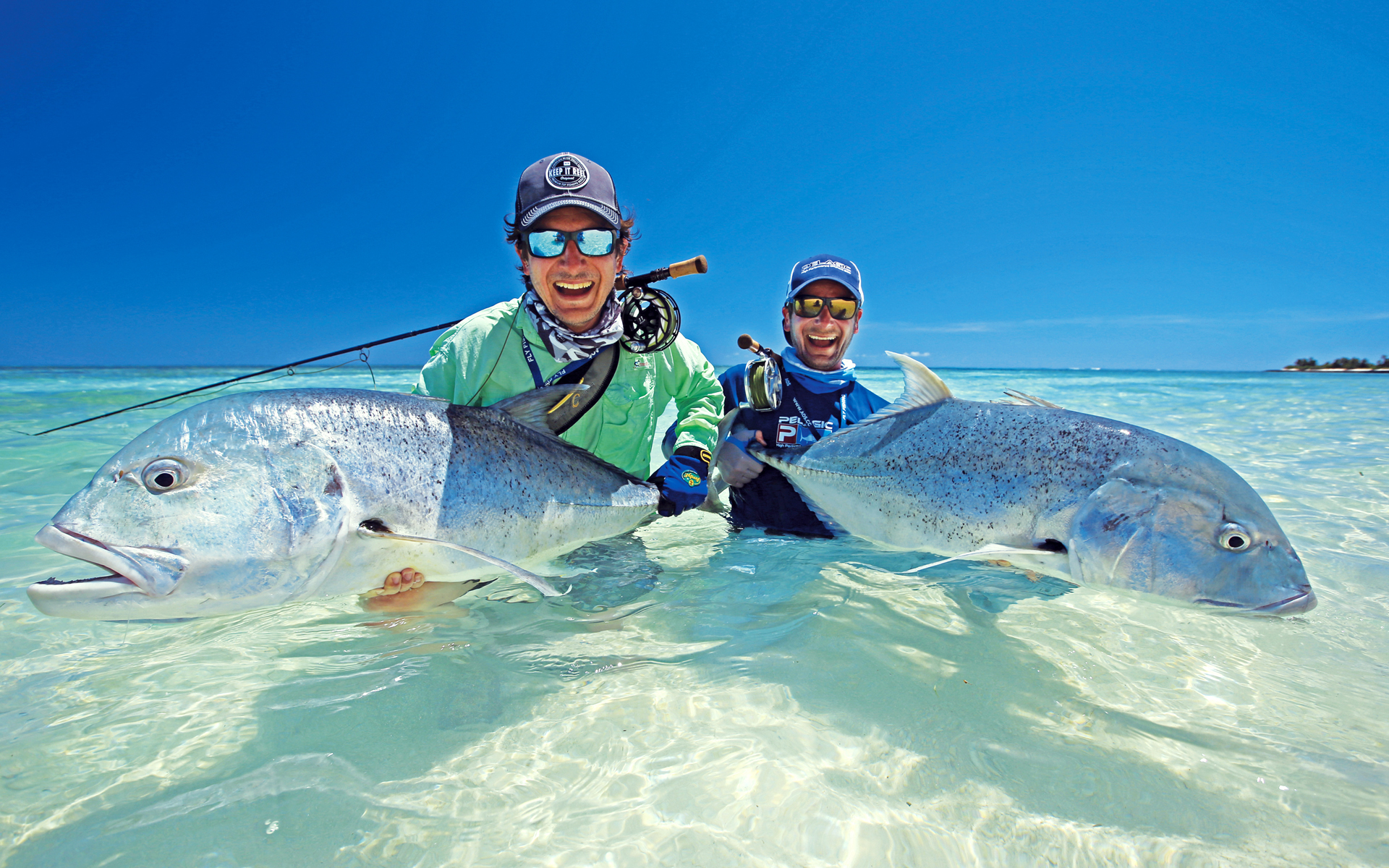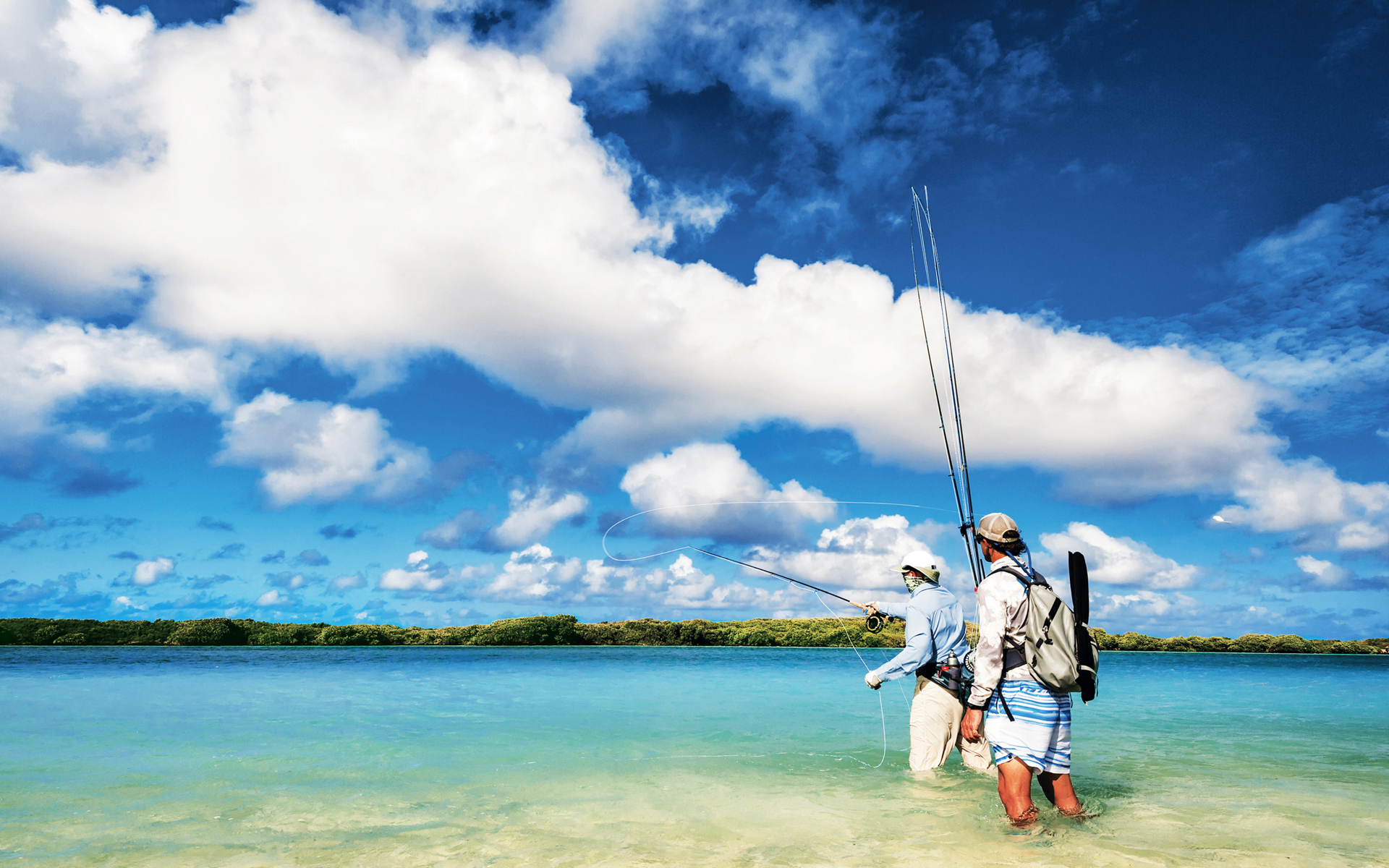 Fishing report
April 2022

Week 17 started off with some calm and exciting spring tides. Our new group was mostly return guest so they were very excited to be back and see what the week held. On arrival we had a brief rundown of the week, got all their gear ready and the right flies, line and leader. After tackle setup the guys took the afternoon to go and see if they can get a fish before the week started.

Day one was very calm conditions and Chris had early action in the morning where he lost a nice fish but he came back strong and landed a 65 cm GT. Graham and Angus went out to the east of the atoll and found a wonderful spot where they saw multiple geets coming in surfing the waves with the incoming tide, here they managed to land four geets, between them the biggest one was 75 cm.

Renea was our only lady angler and it was her first time fly fishing. She was a real warrior and managed to get her first bonefish and many more on the first day of fishing with getting 10 bonefish in one day and the biggest of four pounds.

As the week progressed the weather was up and down with some overcast conditions, but it did not stop Johan from going out and getting his fish. Johan spent some time in the lagoon on the hunt for a geet as the first one got away before the photo was taken. and he managed to get catch another glorious fish of 65 cm.

On the second to last day the weather got better and the fish seemed to come onto the flats again, Angus saw an exciting looking fish on a ray and he made a perfect cast and which landed in the right spot, and with one strip and the fight was on and a few minutes later he landed a 88 cm GT!

Tight lines,