Testimonials
Fantastic trip
Hi Daniel, once again we returned to Cuba, but this year we switched destination to Gardens of the Queen after repeating Isle of the Youth for 4 years. The experience of the 12 of us was fantastic. As far as the boat, amenities and boat attendants there are no words to describe the good service and the excellent treat towards us.
The food and the waitress were first class
As far as the fishing, our 6 skiffs did very good, we all fished and saw many tarpon. In my particular case I did a Grand Slam, so me happiness was even more than the rest.
Thank you as always for assisting us and taking care of small details that always come up.
Cheers,

Gustavo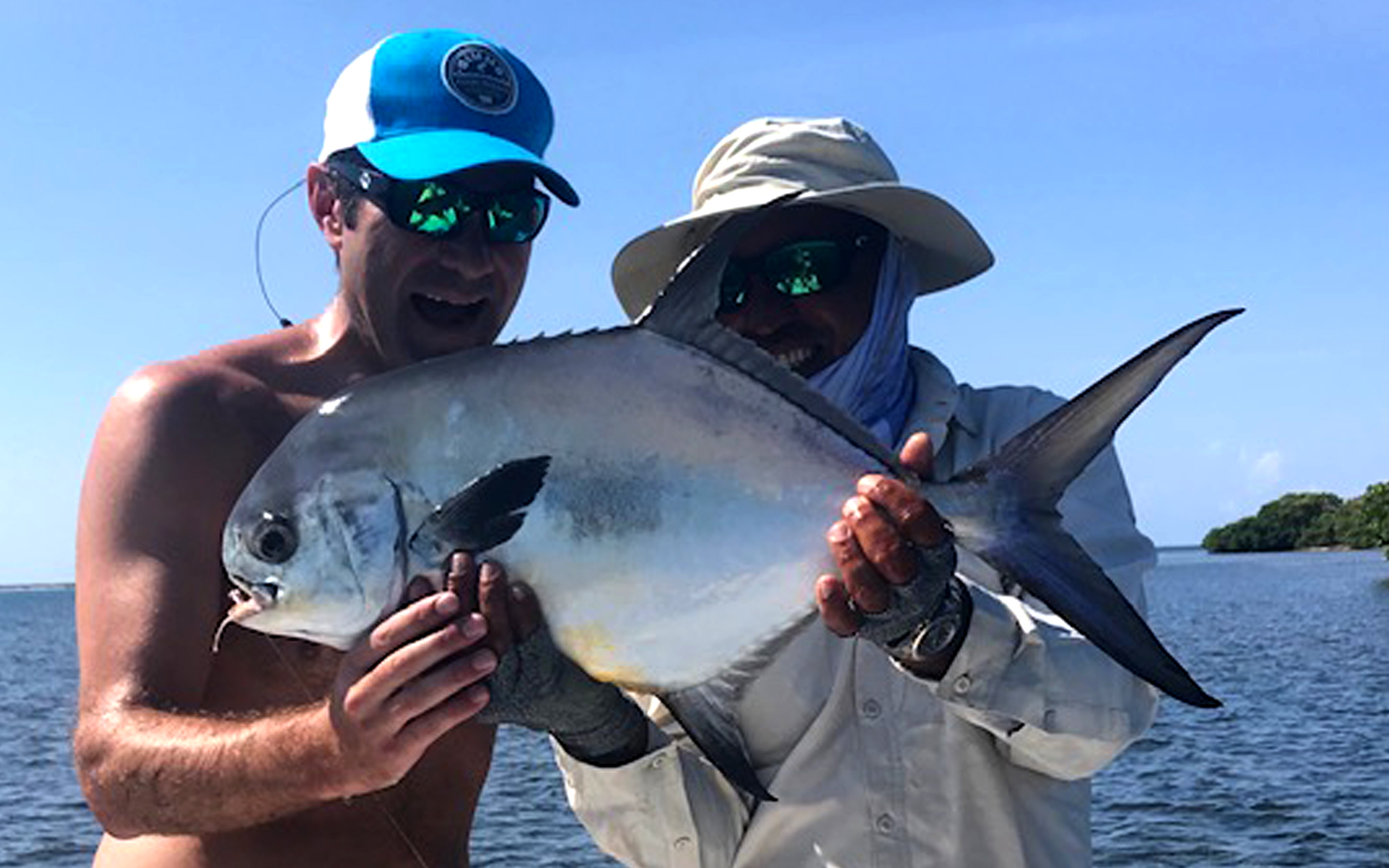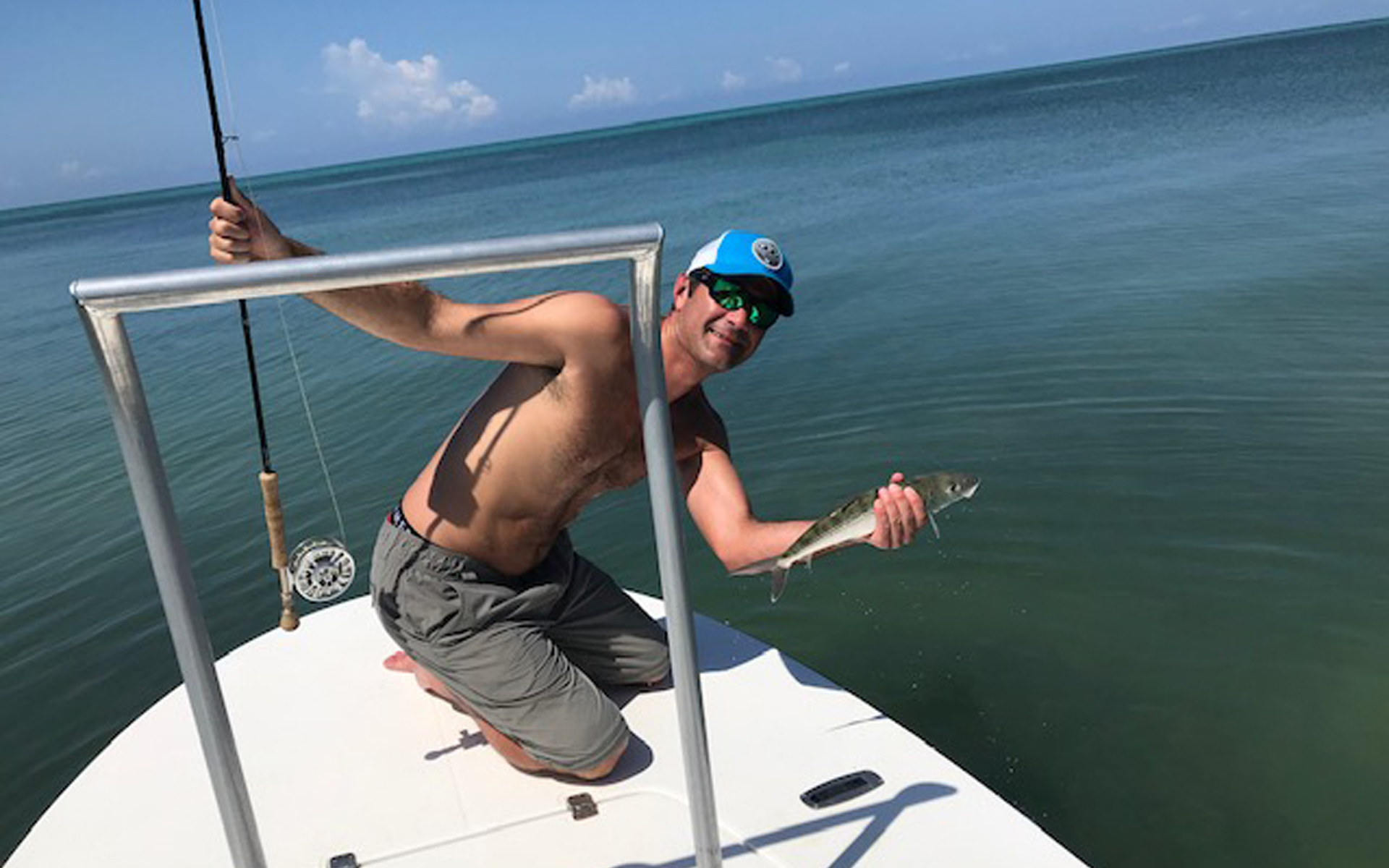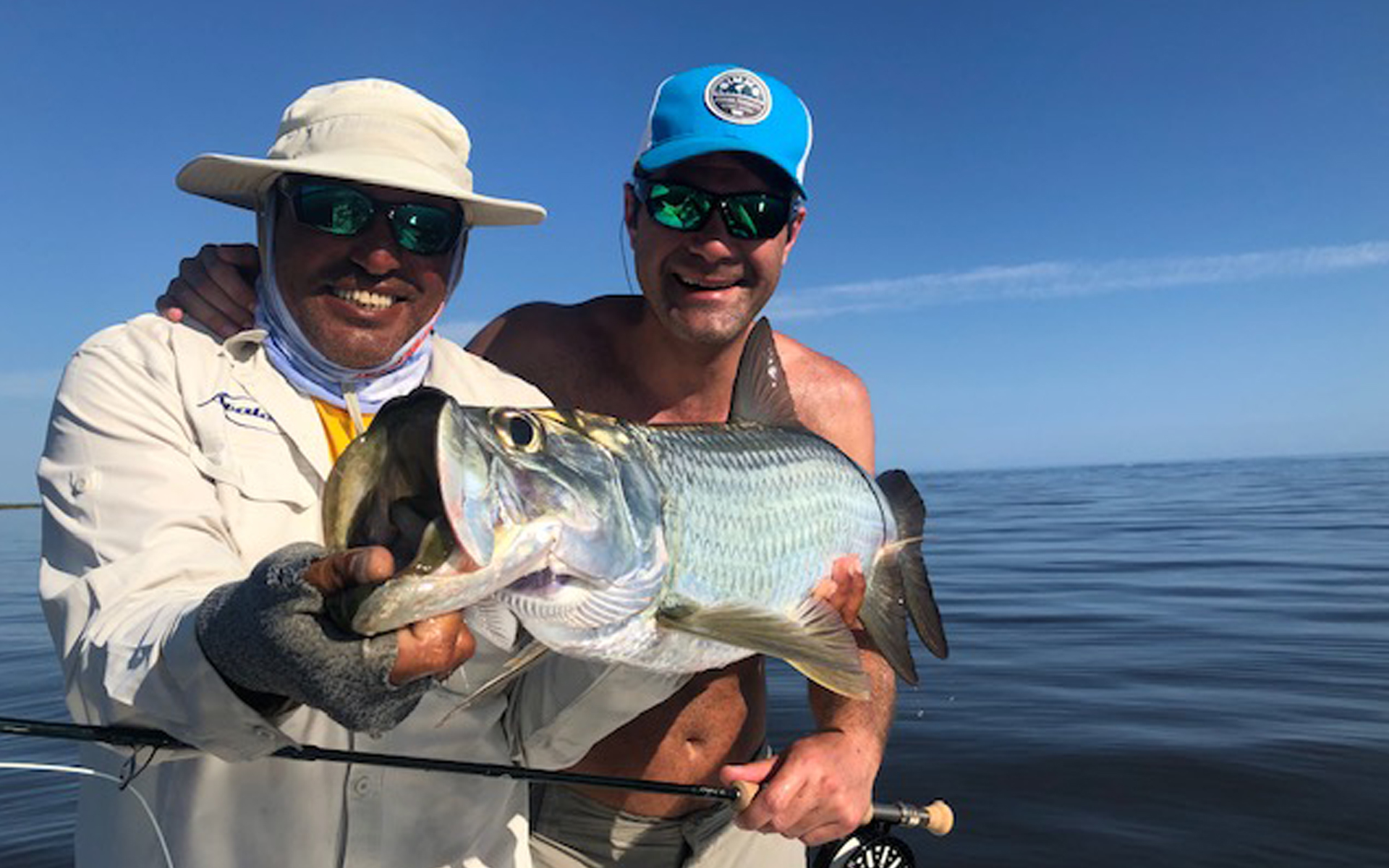 Great week with friends and a Grand Slam!
I've discovered a different Gardens of the Queen this year from August 15th than from my last year's trip.
I always liked this destination, it's demanding, vast, must work yourself around the fishing and always gives opportunities of captures. Guides must sometimes chase the fish and together with a good casting you can have a very profitable day.
What you have in this late season from the Cuban summer, are many casting chances for the so wanted permit, besides bonefish and tarpon.
The permit is not an easy prey, but if you dedicate it time and the water and weather conditions are favorable, then you can see many of them along the week. But from there to actually fish them, that's another story, achieve the precise cast and that it feels tempted by the chosen fly it's given in special occasions.

I was able to fish 2 last year in August and I got the priviledge to catch 1 on July 20th this year! (it was full moon the previous night).
I have already chose my favorite crab for this place, which has always worked for me fine.
I also enjoy very much the bonefish fishing while tailing in the flats, the fulfill everyday's wish of capture with a nice cast and an even better run. Besides it's a good training previous to the permit's chase.
As far as the tarpon, passion of many anglers due to its strength, jumps, size and the difficulty in setting the hook for its hard jaw and the easiness with which they can get loose from the fly.
During this season there are predominantly baby tarpon in mangles mainly and some can be found hunting in flats. The biggest sizes were up to 30 kgs (66 lbs) in this area.
When you fish a permit, the possibilities of achieving a Grand Slam becomes more real and even guides get more enthusiastic and immediately start searching for tarpon everywhere. In this occasion we landed a baby tarpon in the mangles, and last the bonefish who seals the Gran Slam.

The group of friends who traveled with me in that week worked our very well, we had a great time and shared amazing food and good memories on board the Avalon Fleet II.

Always a pleasure!
Anotnio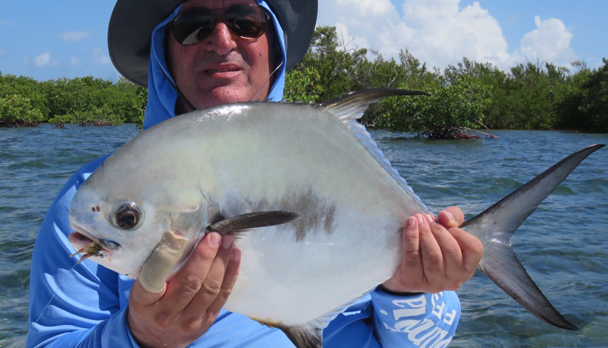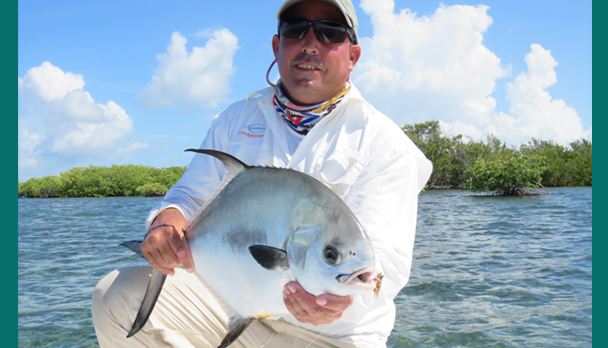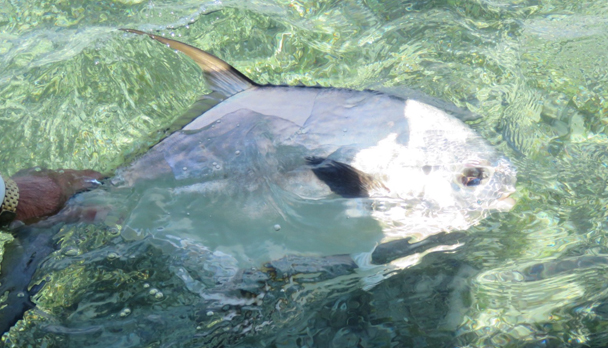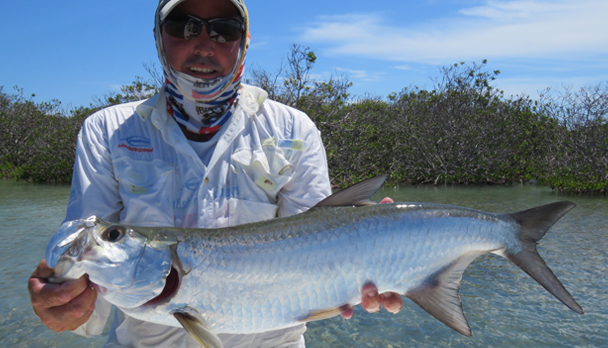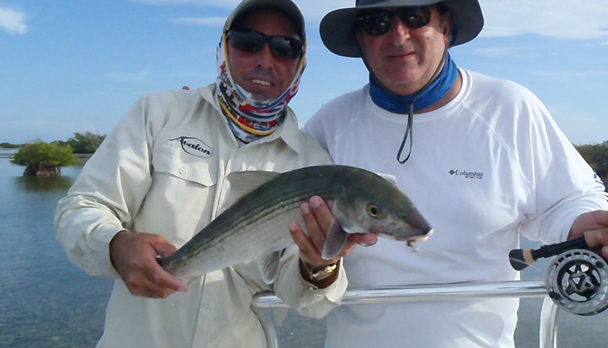 An amazing first experience!
Dear Daniel,

The trip went very very well? we liked very much the fishing in Cuba and despite the fact it was our first saltwater experience and the weather being very warm, we managed to fish quite good. The average captures were 8 bonefish and 2 tarpon per angler, being the biggest tarpon around 35 lbs. We also hooked a couple of cudas (strong fighters!), snappers...
This fishing requires a learning curve and our first trip was very important!

The service from AVALON crew, the yacht and hotels in Havana were perfect! The Georgiana yacht turned out to be very comfortable and in great conditions even though it's supposed to be one of the oldest boats.

Last but not least I wanted to thank you for all the services provided and suggestions which were very accurate!

We'll definitely come back!
Two years ago, a group of members of Norysur went on a trip to Gardens of the Queen. It wasn't our first trip to Cuba, but yes to this specific fishing destination. After that trip we all swore to return, and therefore we did and we would do it again if the gods are in our side...

The group was conformed by experienced anglers and also those having their first "salt water adventure" all of us with the same enthusiasm!
We traveled by Copa Airlines through Panama, spent the night in La Havana and very very early in the morning, at 03:30 hrs we took a bus with a 6 hour drive to Jucaro where we got on board the Avalon Fleet II. A luxurious yacht of big proportions was going to be our home for the next days. After getting settled in our rooms, the boat sailed for 4 hours to the archipelago of Gardens of the Queen.
We had breakfast at 7am and by 8am we went off fishing with our guides until noon that we returned back to the boat, had lunch and some resting, and return back fishing from 3pm until sunset.

During the 3 previous weeks, the weather was very bad, windy, cloudy and rainy! Those conditions made very limited the fishing possibilities to the other groups. We instead were blessed with good weather, luck can happen sometimes! Even though the mornings were a bit windy and with no much sun, during the afternoon the skies cleared up and wind calmed down. As it usual happens in the Caribbean summer, rains at night are quite popular.
We could see bonefish everywhere and had our treat with them. In order to fish them, the cast had to be precise and sometimes the guides got even more excited than the anglers themselves!
During the 3rd day, some of us went to a far fishing zone where guides have seen tarpon before. And they were there, big tarpon of around 66 lbs average, waiting for our flies. We switched to rods #10 and sinking line, and no precision was needed in this cast, but yes the emotion of hooking one of those beasts and fight it for a while until it surrendered.

The ladies had their chances as well and as you can appreciate in the pictures, they did very well! Our congratulations to them!

The attention on board couldn't have been better, upon our return form the long fishing day we were welcome with clean wet towels to clean our face, daiquiris, pizza, mojitos and were able to completely disconnect from the world surviving 6 days without internet connection. A lost luxury nowadays!

We were able to see some permit (big ones) but were never able to take at shot at them. We'll try the next time.

Our trip now is a memory, while we're projecting the next one. Few fishing programs can be compared with this one! We'll be back...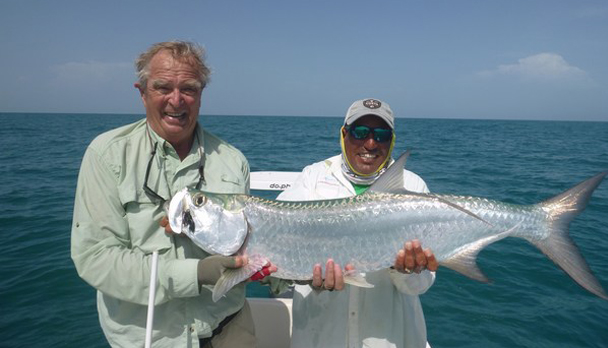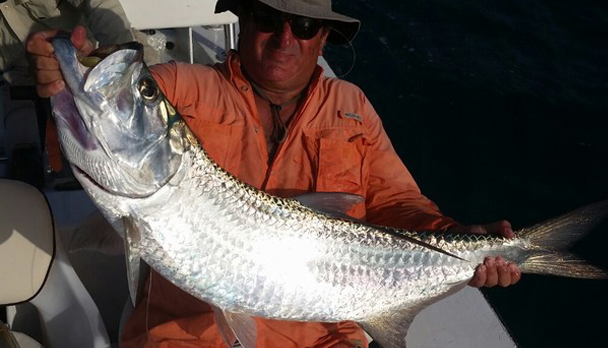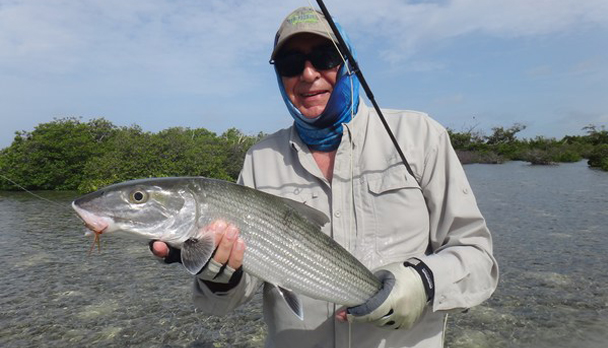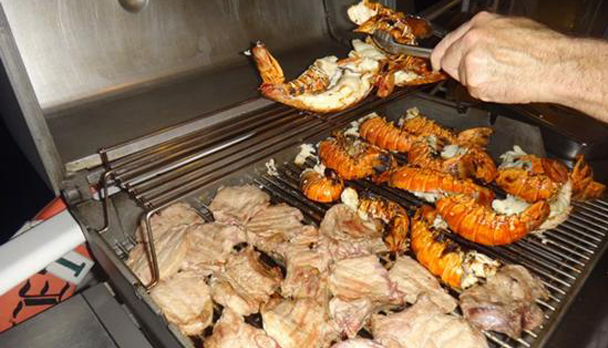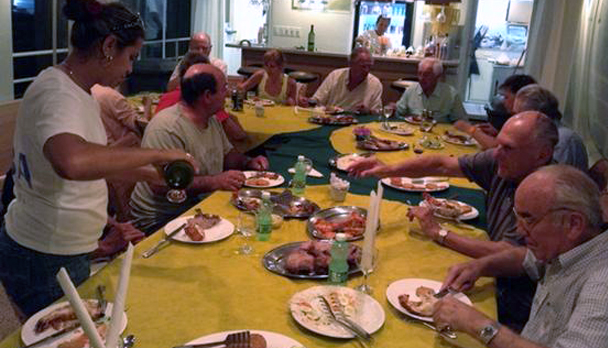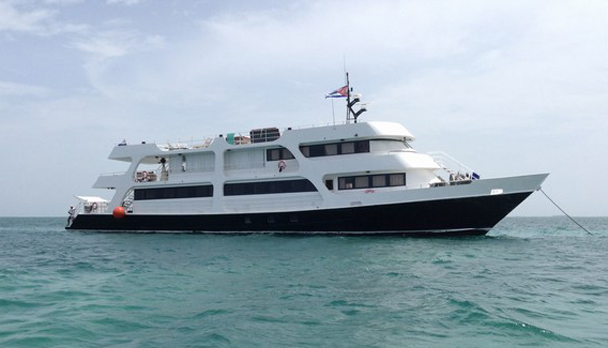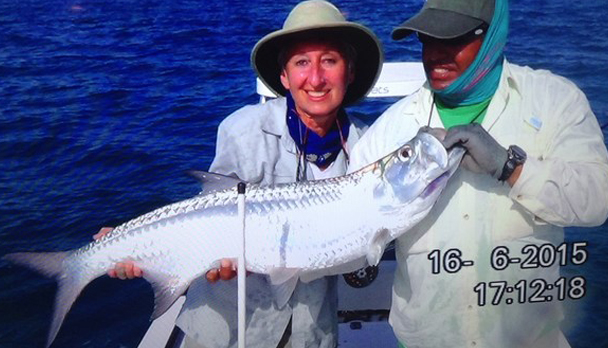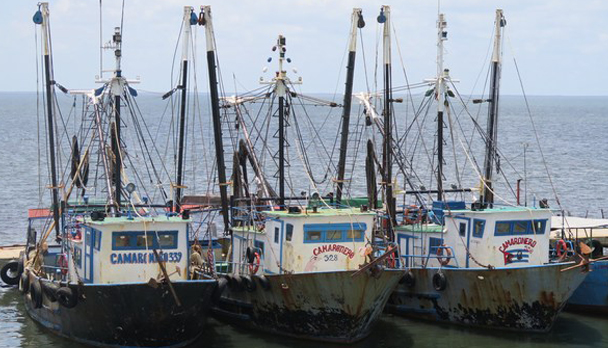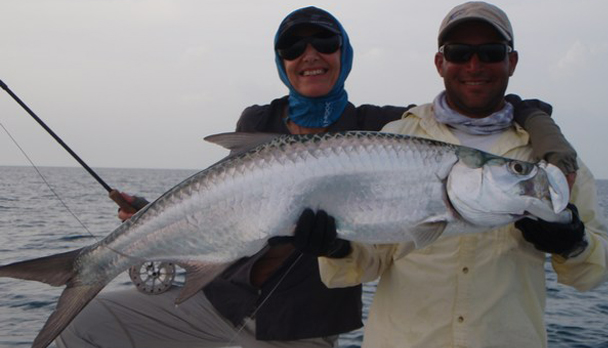 A place to return!
Dear Daniel,

We had a great time, good service and amenities and cuisine of excellent quality. The fishing was regular, it didn?t rain but we had winds from the south. And it was difficult for the good tarpon fishing. During the total week the tarpons landed were the following; Eduardo 2, Cristobal 2, Alejandro Parot 1, Javier my other son 1 and I hooked 2 but lost them in the fight. one of them was a big one.

My guide was Keko who I didn?t know from my other trips and had very good results, great sight and puts the right pressure. I mainly fished for bonefish in the flats.
The new ones in saltwater fishing on fly due to the conditions ended up trolling with fly and had great results, fishing cudas, jacks?. and had a lot of fun though the circumstances.

The wives had a good time and all of them would return.

La Tortuga / Gardens of the Queen
Dear Daniel,
I apologize for the late response, I had a lot to do on our return and Peter has had a virus (gripe).
First, we thought you did an excellent job of preparing all the arrangements. I especially appreciate you getting us back in the IBEROSTAR Parque Central , so I could enjoy my one "tourist" day.
Next, we were very impressed with the accommodations on La Tortuga. It was very comfortable.
The fishing was "world class". We had a couple of incredible bone fishing days.
The food was well prepared and plentiful, but lacked variety.
The guide was very knowledgeable and put us on the fish quite well.
We are hoping to spend a month in Argentina next winter and would like to work with you on some fishing at that time.
Hope you enjoy your trip in June.
Nancy
Gardens of the Queen (Cuba) a five star dream !!!!
When Javier Solis and I decided to visit the Gardens of the Queen in Cuba one year ago, I never thought I´d live such an interesting experience.
The trip began with a comradeship dinner at Havana, when Javier gathered those who took part in this dream: Marcos, Nacho, José and Javier from Spain and I from Argentina. Daniel Beilinson was the only one missing; he was going to meet us the following day at La Tortuga, the boat which would accommodate us for the next nine fishing days.

After quite a long trip, 5-hour bus ride and three-hour boat trip, we reached La Tortuga on the following day. After a fast lunch, we started fishing. Since then, we got never bored. The adrenaline filled us all. Amazing surprises awaited us every day: Tarpon - Bonefish - Permit - Jack - Barracudas - Cuberas, etc. At the end of each day, we all had incredible stories to tell, especially the two Gran Slam (one was achieved by myself) and the two 100-pound tarpon I caught.
I can positively assure everything turned out excellent: the guide´s expertise, Avalon´s logistics, the operation that organized the trip, the accommodation and food.
Daniel Beilinson, CEO of FlyFishingCaribe, offered a special personalized attention all the time, far beyond what we had experienced before, always brilliant:
A) Contributing with his knowledge and offering his advice to us, the anglers.
B) Sharing his experience with the guides to fulfill the clients needs and expectations.
C) Suggesting ideas to the people in charge of the operation so that they could offer a better service each day.
Thank you, Daniel and thanks, FlyFishingCaribe.
See you soon.
Carlos F. Cristini
Salinas de Brito. I would like to say that I enjoyed the fishing very much.......
Daniel,

I would like to say that I enjoyed the fishing very much, even with my poor technique I caught 7 bone fish during the first day and lost 3 more. The picture shows me with a fish, Lazarus the guide with another and the skiff. Lazarus was very good, a real expert and very knowledgeable.

The second day we tried for tarpon where the lagoons empty into the sea (the river was not fishing well). I only managed to hook one for a few seconds but it was a good day and I want to go back to get a tarpon and of course to catch some more of those bone fish.

The organization and the hotel were very good, as was the food.

I would recommend the fishing very highly.

John Thomas

Salinas de Brito, Cuba. The fishing was great !!!!!!!!!

The fishing was great. Fantastic guides, wonderful scenery and great fish (I got one 5.5lb bone!). Transfers were a bit more confused but we got there...........
Overall we had a great time and would want to go again.

Thanks for organizing........

Chat soon.

James Lyle
Salinas de Brito - Cuba

Daniel,....... all was perfect. The accommodations are super. The food is excellent and the guides are great. We had two guides, the same the entire 3 days. One was Super the other was good. My partener did well all three days. I had one good day and two not so hot but caught fish each day. The area of Las Salinas is unusual in that it is within a national park and covers about 27,000 km. They only allow 6 fisherman/day to control the pressure on the fish. There are no motors, so the guides pole 10 foot canoe like boats. The boats can be very unstable with the fisherman and the guides standing. It does take along time moving from point to point. Other than these minor issues, the only other thing to be sure to tell other fisherman is that it is a good hour to an hour and one half to get to the fishing from the hotel. All in all I would recommend without reservation. I will be putting a report in the Angler's Report listing you as the outfitter. It was a very positive experience. Thanks, Bob Bruce
robertabruce@yahoo.com